It's a lot more difficult to be Rich & Sad when you're driving a Hennessey VelociRaptor 6×6. Although we can't confirm, you can take Post Malone's word for it since he just bought one for himself. Not a bad Christmas present if we do say so ourselves. Like Ferris Bueller said: "it is so choice. If you have the means, I highly recommend you picking one up."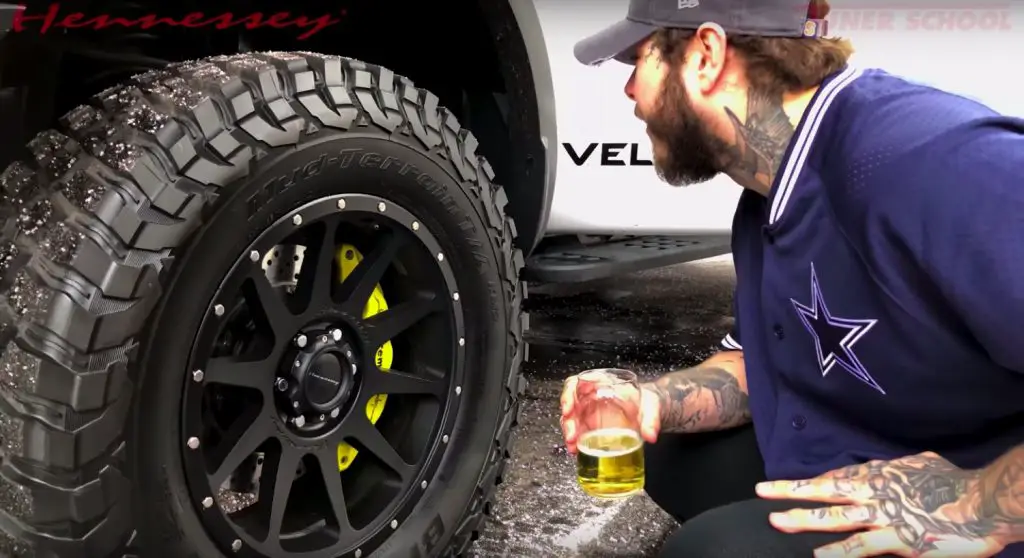 Post Malone did just that, and looked extremely relaxed wearing flip flops and holding (what appeared to be) a beer in hand as he took delivery. Watch for yourself as the massive HPE Ford VelociRaptor 6×6 pulls up to Malone, adorned with one-of-a-kind touches unique to his truck, and his alone.
John Hennessey uploaded a picture of Post Malone chucking a peace sign in front of his new truck, looking stoked and ready to give it a rip. Unique touches on this particular VelociRaptor 6×6 include yellow accenting shocks under the white body and massive black wheels and tires. The truck clearly wasn't cheap, and while we don't know exactly what Post paid for his, this 6×6 was on sale for over $300K.
We have too many puns that we'd like to use, but we're probably better off just congratulating the young rapper. Post had an amazing year and he finished off 2018 on a high note by picking up one of the most unique vehicles available from Hennessey, or any manufacturer for that matter. We're fairly certain he's feelin' like a rockstar right about now.
Aside from the obvious fabrication work and extra set of wheels, the Hennessey VelociRaptor 6×6 features an upgraded Fox suspension, 20-inch wheels with off-road tires, revised front and rear bumpers with a front-mounted push bar, a rollbar, LED off-road lamps, and of course, locking rear axles for traction in almost any circumstance. An extra $22,000 or so will boost output of the F-150 Raptor's 3.5-liter EcoBoost V6 past 600 horsepower. This is achieved via upgraded turbos, an upgraded air-to-air intercooler and associated plumbing, and stainless steel exhaust components. Additional options will include things like upgraded Brembo brakes, special interior treatments, and what's described as "armoring systems."