It's not often that us regular folks get the opportunity to buy a modern-day NASCAR stock car, but with Ford set to replace the NASCAR Ford Fusion with a new Mustang body for 2019, it's not surprising to see some of the outgoing Fusion NASCAR cars go up for sale.
Barrett-Jackson will auction off a 2018 NASCAR Ford Fusion driven by David Ragan in select races in 2018. The auction house says it "comes with a Ford Performance Roush Yates Racing engine built in the Mooresville, NC facility," which produces over 750 hp. It also has the original 4-speed G-Force transmission, 4.63 rear gear, Goodyear racing slicks and even one of Ragan's carbon fiber seat shells with the SFI-certified insert and 7-point racing harness.
This is no showpiece, either. If you felt so inclined, you could drive it, with Barrett-Jackson describing this retired race car as "ready to hit the track." We're not sure where you'd drive it, other than on a closed oval during an open lapping session, but that certainly still sounds like quite a way to kill an afternoon. We imagine it will end up in a wealthy Ford enthusiast's collection or a NASCAR museum of some sort, though.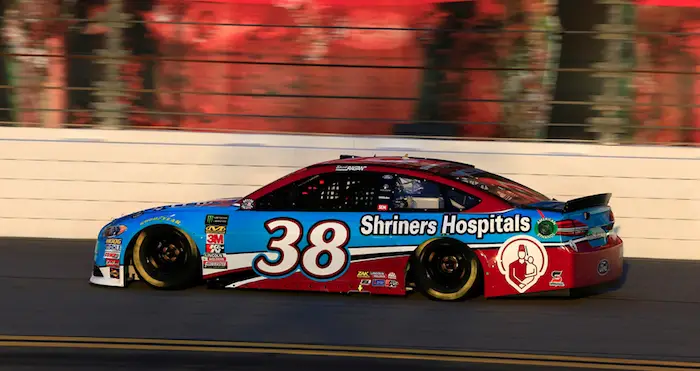 All proceeds from the sale of this Shriners Hospital for Children-liveried NASCAR Ford Fusion will benefit, surprise, the Shriner's Hospital for Children. Placing a bid on this car would be a good way to get your hands on a race-ready NASCAR machine, wealthy motorsports fans. After all, how often is it that you get to buy a NASCAR stock car and donate to a great cause at the exact same time?
It's not clear what kind of history this NASCAR Ford Fusion has, with Barrett-Jackson not listing its race history online.
This lot will go under the gavel at Barrett-Jackson Scottsdale on January 17th at 7:30 p.m.