Brad Keselowski drove his No. 2 Penske Ford Mustang to a hard-fought win in Sunday's Folds of Honor QuikTrip 500 at Atlanta Motor Speedway, giving the legendary nameplate its first-ever win in NASCAR's top-tier series.
Keselowski, who missed practice on Saturday after falling ill and won the race while still suffering the effects of the stomach flu, crossed the finish line .218 seconds ahead of the No. 19 Joe Gibbs Racing Toyota of Martin Truex Jr.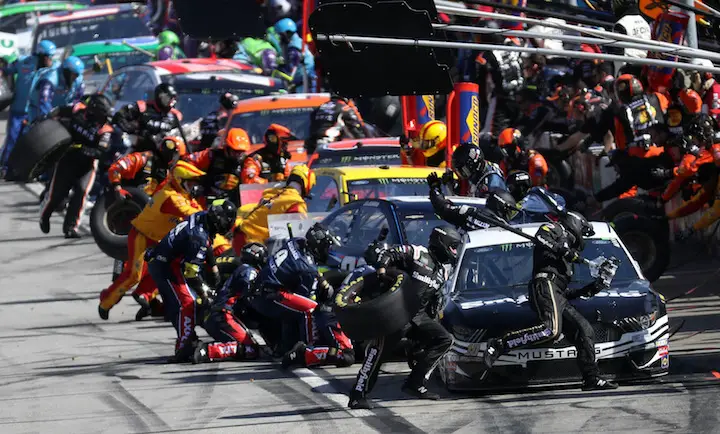 The Penske driver was the beneficiary of a late-race incident on pit road between Ryan Preece and B.J. McLeod, which brought out the yellow altered the outcome of the race.  A restart following the pit road clash saw Keselowski pull out a large gap on the field, but Truex then began to reel the Ford in as he struggled with an overheating engine and worn tires. The Michigan-native managed to hold off a frustrated Truex for the win, however, putting up his 61st victory in Penske equipment – enough to make him the winningest Penske athlete of all time.
"We ran over a piece of debris with, I don't know, probably 50 laps to go and overheated really bad, and I thought there was no way this engine would make it to the end," Keselowski told NASCAR post-race. "But (Penske engine builder) Doug Yates and his team, they do a great job."
"I think any win means a lot, but that's a big number," Keselowski added, referencing his 61st win.
"But what a tremendous honor. This day is … Wow, I don't even know how to put it in words. I'm just excited for this team, first race with the new rules or whatever they're called now, and to be able to win it, that's really special."
Click here to view full results from the Folds of Honor QuikTrip 500. The 2019 NASCAR Monster Energy Cup Series will continue with the Pennzoil 400 at Las Vegas Motor Speedway on March 3rd.
(source: NASCAR)