Denny Hamlin led a trio of Joe Gibbs Racing Toyotas across the finish line in Sunday's Daytona 500, while Paul Menard brought out the 'Big One' late in the race in his No. 21 Ford Mustang.
The season opening Monster Energy NASCAR Cup Series race ran clean in Stage 1 and 2, with only a handful of small incidents interrupting rather long green flag periods. The drivers threw caution to the wind in Stage 3, though, as the lead pack desperately jockeyed for position in a bid to put their names in the Daytona history books.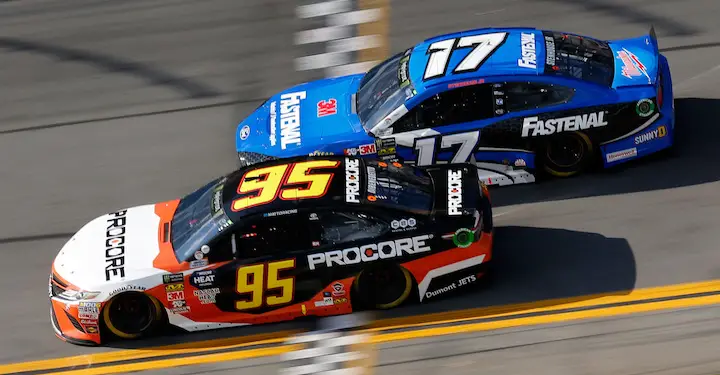 Things reached a boiling point following a restart with 10 laps to go. Menard spun the No. 95 Toyota of Matt DiBenedetto, which sent him crashing sliding across the tracking before crashing into the outside wall. A total of 21 cars were collected in the wreck, including some that previously looked to be in contention for the win, like the No. 48 Chevrolet of Jimmie Johnson and the No. 10 Ford of Aric Almirola.
Menard, who crashed out of the Daytona Clash last Sunday after contact between he and Johnson caused a similar-looking wreck, took blame for the field-collecting collision post-race.
"I'll take the blame for that one, I guess," Menard told NASCAR post-race. "We had really fast Fords. I sped on pit road and got us behind. We had to play catch-up. We had a shot there at the end though. It was time to go. It's frustrating that we have to put ourselves in that position to race this way. I tried backing off but wrecked a lot of cars."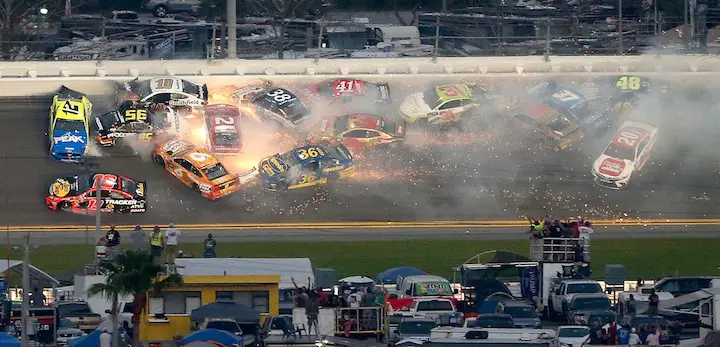 Two more wrecks marred the final laps of the race, with a two-stage shootout deciding the winner. Hamlin and Kyle Busch led the field to Green, with Hamlin pulling away from Busch to lead the two cars across start/finish with teammate Erik Jones in tow. The top-finishing Ford driver was Joey Logano, who was fourth, while Michael McDowell completed the top five.
Click here to view full results from the 2019 Daytona 500.