Everyone knows that one of the best parts of owning a modern Ford Mustang GT is hearing the melodic exhaust note of the mighty 5.0-liter Coyote V8 engine. And for those who wish to improve on the already-great-sounding stock exhaust note, Flowmaster has just the thing in the new FlowFX axle-back system.
Made specifically for 2015-2017 Ford Mustang GT models, the Flowmaster FlowFX axle-back system is comprised of 3-inch, mandrel-bent, 409 stainless-steel tubing, and the FlowFX series straight-through performance mufflers and 4-inch polished tips. It also uses factory hanger locations for a direct fitment.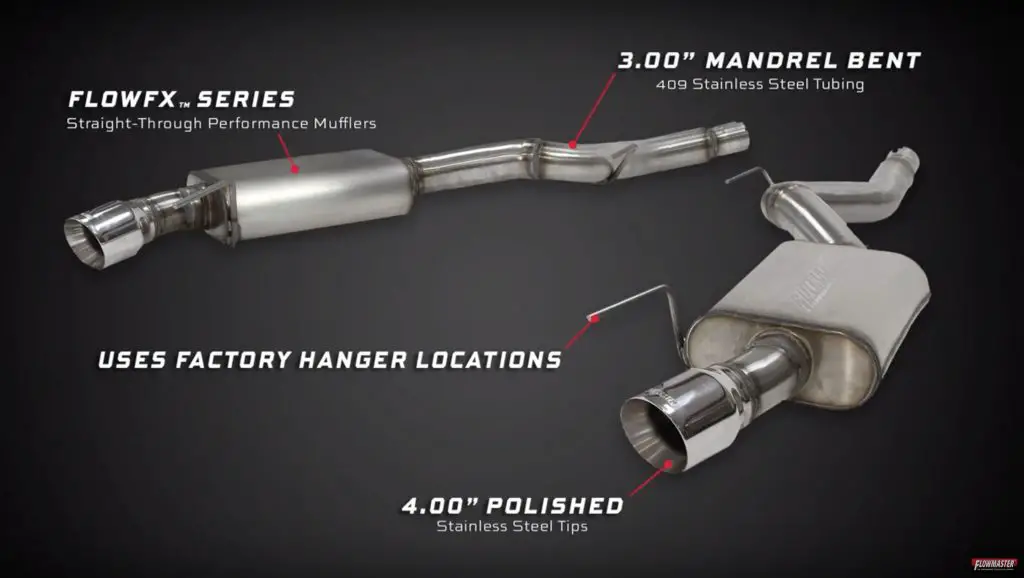 Flowmaster says that this particular axle-back is the ideal option for someone who wants a moderate to aggressive exhaust volume both inside and outside of the cabin. In addition to improving the overall aural experience of the Ford Mustang GT, the FlowFX axle-back system also increases horsepower. Though Flowmaster doesn't disclose any specific gains, it assures shoppers that this exhaust system has been dyno-tuned for optimum performance.
Designated by part number 717749, the FlowFX axle-back for 2015-2017 Ford Mustang GT models is normally priced at $799.95. But as of this writing, the system is on sale for $504.30 and Flowmaster is currently offering free shipping. Even with the discounted price, the system isn't exactly cheap – especially given that most exhaust shops will build you a full cat-back system for roughly that amount. But you get what you pay for, as the adage goes.
Go ahead and have a listen to the system in the video, and then share your thoughts on the FlowFX axle-back exhaust for the Ford Mustang GT in the comments section below.