In the early 2000s, Ford wanted to showcase the F-150 nameplate while also giving a nod to the hot rodders and muscle car fanatics of the 1960s. The result was the 2001 Ford F-150 Lightning Rod Concept, which recently sold for just $27,500 at Barrett-Jackson's Scottsdale 2019 auction in Arizona.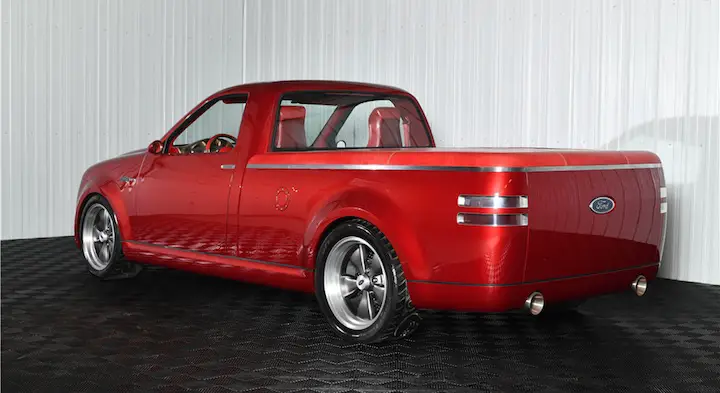 Described by the automaker as an ode to the "passion of muscle cars of the 1960s, the hot rod industry and the current body art craze," Ford F-150 Lightning Rod Concept was lower and longer than the eight-generation F-150 on which it was based and also featured a more aggressively raked windshield. Horizontally oriented headlights and taillights were intended to give the truck a sleek and modern appearance and were joined by other avant-garde features like flush door handles and exhaust tips. The headlights and taillights are also composed of neon tubes, allegedly, although it's not clear if there is real, actual neon gas in there.
This concept truck also carries the unique distinction of being a styling exercise that actually runs and drives. Under the hood is a 5.4-liter Triton V8 engine, which is paired four-speed automatic transmission. Despite the working powertrain, the vehicle is not registrable with the Department of Transportation or the Environmental Protection Agency and does not have a title, so whoever bought it won't be able to actually drive it on public roads.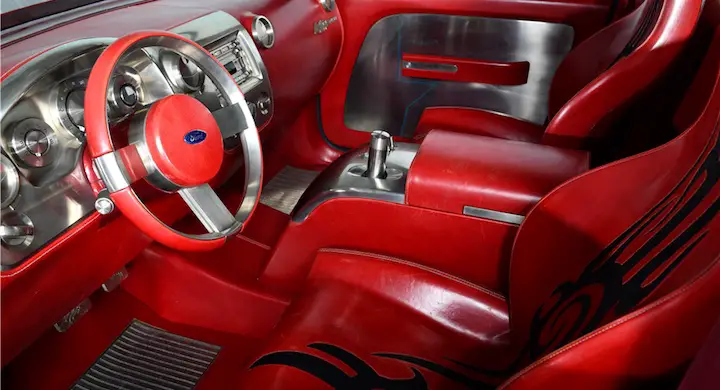 The F-150 Lightning Rod Concept also features a fully custom interior with red leather, aluminum trim and various tribal designs. Covering the bed is a unique leather-wrapped tonneau cover with a die-cut traditional tattoo of the native New Zealand Maori tribe. Now there's something you wouldn't want to leave out in the rain.
You can view moe photos of the F-150 Lightning Rod Concept through Barrett-Jackson's listing for the car at this link.