Ford Motor Company and the cargo solutions specialists at Yakima have teamed up to introduce a full lineup of roof racks and other storage accessories for the 2020 Ford Explorer SUV.
Ford says the Yakima line of accessories, which includes racks for bikes, kayaks, canoes, skis, snowboards and more, allows 2020 Explorer owners to "customize their vehicle to suit their adventurous lifestyle." The cost of the accessories can be lumped into the vehicle finance plan when purchased new from a Ford dealer, and Ford Credit says that all official Yakima accessories will be eligible to add value to the vehicle's resale price if it is ever sold back to the dealership.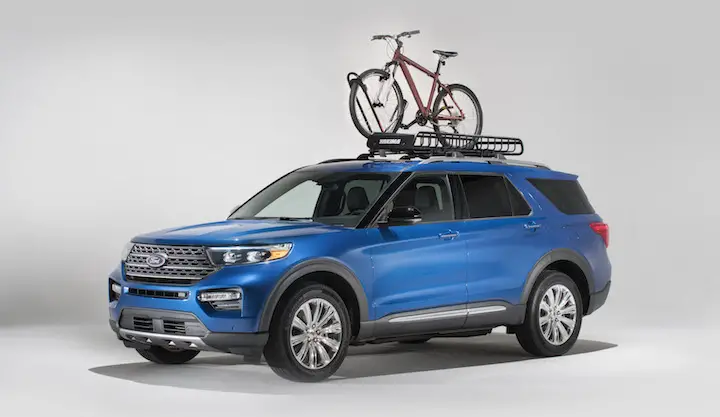 The line of Yakima racks and storage solutions for the 2020 Ford Explorer will include the following:
Bike carriers
Hitch-mounted tilting bike rack, available in two-bike and four-bike designs
Hitch-mounted swinging bike rack, can carry up to four bikes
Hitch swing adapter converts nearly any 2.0-inch hitch-mount bike rack to a swing rack
Roof-mounted bike carrier
Watersport equipment carriers
Canoe carrier mounts to nearly any roof rack
Kayak carrier holds one kayak in the angled position, or two kayaks side by side; integrated boat ramp helps make loading easy
Kayak carrier load assist lowers 26 inches from rack height and provides up to 45 percent weight assistance
Paddleboard carrier holds up to two stand-up paddleboards; integrated rollers help with loading.
Snow-sport equipment carriers
Hitch-mounted ski and snowboard rack converts any tilting or swinging four-bike hitch-mounted carrier to a ski and snowboard carrier; can hold up to six pairs of skis or four snowboards
Rack-mounted snow-sport carrier holds up to six pairs of skis or four snowboards; large locking button is easy to use, even when wearing gloves
Cargo carriers
Cargo box provides 16 cubic feet of storage space to fit snowboards or skis up to 185 centimeters long; dual-side openings provide easy access from either side of the vehicle
Small, medium and large roof-mounted baskets; weather-resistant construction
Awnings
6.5 by 6.5-foot awning provides 42 square feet of cover; nylon shade rolls and fastens to roof rail.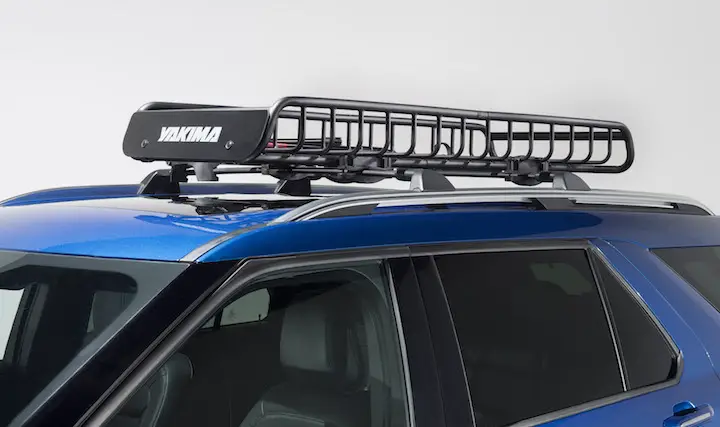 "Explorer drivers are doers, they're adventure-seekers," Ford's SUV brand manager, Craig Patterson, said in a prepared statement. "The availability of Yakima accessories in our Ford showrooms is one more way we can help people own the Explorer that best fits their adventure."
The 2020 Ford Explorer will go on sale in the United States this summer with prices starting at just over $32,000. Pricing for the Yakima line of accessories is not yet available.