Last week we saw a stock Ford Ranger on the dyno at Hennessey Performance Engineering and had an idea what was in store, but now the curtain has been pulled back. Because it's not coming to the American market, Hennessey has built their own Ranger Raptor. Officially called the Hennessey Ford Ranger VelociRaptor, it promises power and capability that will take the fight to the Chevy Colorado ZR2 Bison and beyond.
The bone-stock Ford Ranger that Hennessey originally put on the dyno made 243 horsepower and 267 pound-feet of torque to the rear wheels. Based on Ford's claimed power output (270 hp/310 lb-ft) the dyno reading at Hennessey Performace indicated a 10 percent loss in horsepower and a 13.58 percent decrease in torque when putting the power down. HPE will up the power to 350 horsepower and a stout 385 pound-feet of torque.
Several upgrades will be made to the standard Ford Ranger in order to achieve the increased power figures in its VelociRaptor form. Installations include a high-flow air induction system, less restrictive stainless steel cat-back exhaust system, and tuning that will increase boost.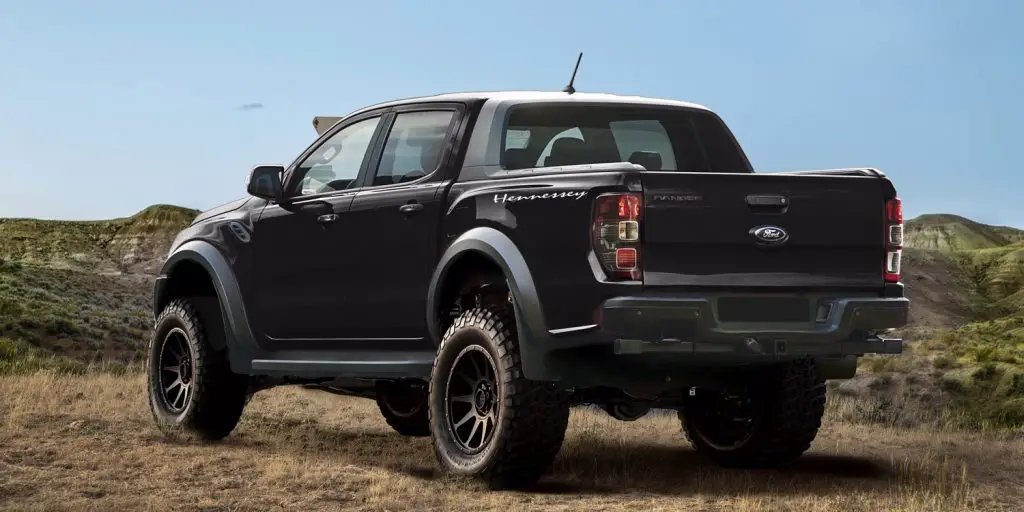 The 2019 Ford Ranger VelociRaptor will improve zero to 60 mph acceleration by 1.3 seconds and will make the run in just 6.1 seconds. Hennessey doesn't stop with straight line performance and will modify the Ranger VelociRaptor for improved off-roading capabilities.  A stage one off-road suspension upgrade will raise the vehicle ride height by four inches, and Hennessey 17-inch alloy wheels wrapped in BF Goodrich All-Terrain tires will be fitted to improve the stance. This combination results in a six inch increase overall. The front bumper has been beefed up and has a tougher grille with 'FORD' in all capitals. LED lighting has also been integrated in the front bumper, and Hennessey completes the look with black fender flares. A winch and a roof-mounted LED light bar are both individual options.
As mentioned above, the current generation Ford Ranger Raptor won't be making it to North America. It looks like this Hennessey Ford Ranger VelociRaptor will have to fill the void for Americans that are interested in having a baby F-150 Raptor. But don't call it a baby to it's face, as it looks very angry.
Only 500 units will be made for the 2019 model year, so if you want one, you better act fast. The 2019 Hennessey Ford Ranger VelociRaptor will cost $64,950, with the truck included. If you already have a Ford Ranger, the package will cost $19,950 plus vehicle shipping. A 3 year/36,000 mile warranty is included.
Subscribe to Ford Authority and you'll be the first to know about future Ford Ranger news.