The 2020 Ford Bronco will receive unique removable doors, if a new patent filed by Ford with the United States Patent and Trademark Office is any indication.
The patent, which was first discovered by Motor Trend, is for a removable door design with a center impact beam. This is a two-piece design, with the impact beam being separate from the door. This allows you to remove the door completely or remove it and leave the impact beam in place. Leaving the impact beam in place would be safer than driving with the doors completely off and may also give the Bronco a neat safari-style exterior appearance.
This is actually quite a smart design by Ford's engineers. As we mentioned above, having an impact beam makes doorless driving a bit safer, but it would be a pain to have to carry around a spare set of doors all the time. This way, you can have impact beams without having to lug around any spare parts. The structural beams are also attached to the door hinges so you can open and close them like regular doors.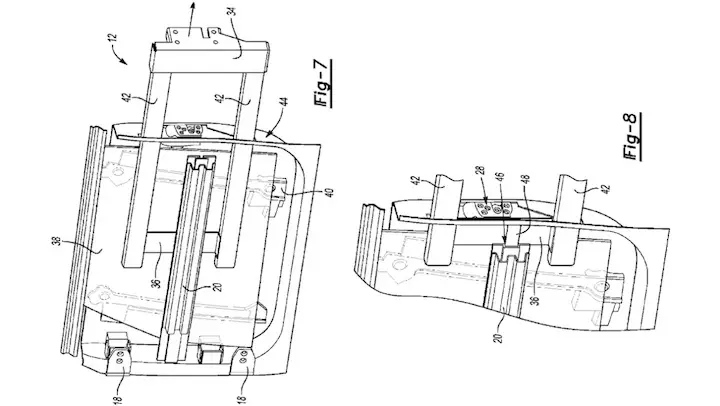 Both two- and four-door versions of the 2020 Bronco are allegedly in the works. The vehicle in the patent drawings is just an example vehicle, so it's not indicative of the production vehicle, but it shows these doors as front doors only. It's unclear if four-door Broncos would also have rear doors like this (if Ford does actually plan on using it on the Bronco, that is), although it seems likely. It's also possible that these fancy trick doors will be optional on the 2020 Bronco, as it seems like a fairly complex design that would be expensive to produce.
The patent also doesn't mention the 2020 Ford Bronco specifically, although rumors allege the SUV will feature removable doors and Ford isn't believed to have any other such vehicle in the works.
Source: Motor Trend
Like this story? Subscribe to Ford Authority for more Ford Bronco news.