Ford is in the midst of one of the most challenging restructuring efforts the automaker has ever undertaken. The company is coming off a year where it lost money in every market where it operates except North America. Yet the global restructuring is still a mystery to many investors, and a mystery even to people inside the company. So far, the only major changes announced have been the exit from the heavy commercial truck segment in Brazil, and the shuttering of a woefully underperforming factory in Brazil that built only 11 vehicles per employee in 2018. Significant salaried layoffs are also expected to take place soon.
Amidst these significant losses, CEO Jim Hackett says that he is happy with what he describes as pushing people. Hackett has been at the helm since May of 2017 and is nearing his second year in the position. He moved to Ford from office furniture company Steelcase and brought with him a very different management style than the people in Dearborn are used to. The executive says that he was brought in to say, "Do we have the score right?" Hackett's style has confused not only people inside the Blue Oval but auto industry analysts and insiders as well.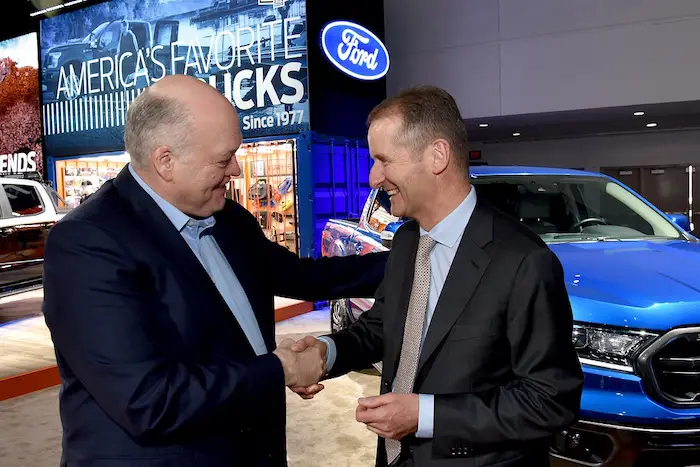 Retiring CFO Bob Shanks said of Hackett last summer, that some of the concepts he is presenting make the "head hurt" but Shanks noted that he was "all in" reports USA Today. President of global operations Joe Hinrichs said that Hackett is "challenging everybody" and noted that the automaker had a "disruption taking place." Disruption is seen as something needed for the automaker right now; it is facing mounting losses with $1 billion in the region that includes China alone. That loss is particularly troubling because China is the largest auto market in the world.
Hackett has offered a bit of insight on the negotiations with VW, which have so far only resulted in an agreement on trucks and vans. Rumors claimed that a deal between VW and Dearborn on autonomous autos worth $4 billion had been made, but a later report suggested no numbers had been offered so far. Hackett says that he's "very optimistic" on the tie-up with VW and says that the "biggest thing" he can report is that the teams are working well together. Some industry analysts think part of the Blue Oval's issue is instability at the top, something Hackett wants to help with. He noted the length of his tenure has no "specific target," but stability at the top is something he is "trying to help with."
Sweepstakes Of The Month: 2021 Ford Mustang Shelby GT500 plus $25K in cash. Details here.