Electrification is a big deal for Ford and other automakers in the U.S. and Europe, with more stringent emissions and fuel economy standards happening globally. Ford has several hybrid models already in its lineup globally, and other hybrids are expected including a possible hybrid Mustang that may have a V8 and an electric front axle. A hybrid version of the Escape/Kuga is in the works, and a hybrid version of the Explorer was revealed at the North American International Auto show.
While the Fiesta, Focus, Fusion, and Taurus were all discontinued in the U.S., the Fiesta and Focus are still available in other markets. Ford Europe has announced that it will unveil Fiesta and Focus EcoBoost Hybrid models as part of its new line of hybrid and all-electric cars, SUVs, and commercial vehicles at the "Go Further" experience in Amsterdam on April 2nd at 16:15 CET. Ahead of that unveiling, Ford is offering some details on the electrified Fiesta and Focus EcoBoost Hybrid cars.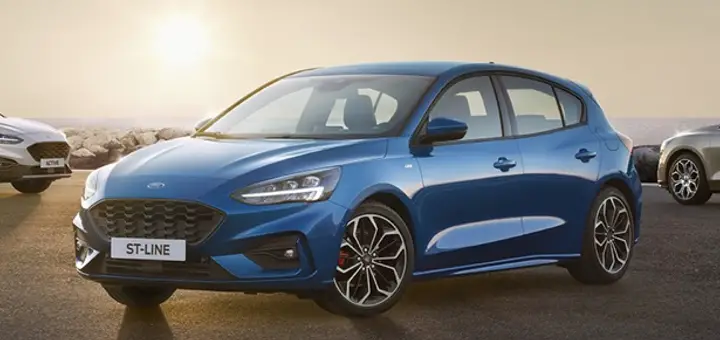 The Fiesta and Focus EcoBoost Hybrid models will use a 48V mild-hybrid design with both rides being introduced next year. The mild-hybrid architecture is aimed at enhancing fuel-efficiency and complementing the "fun to drive" experience by delivering more powerful and responsive performance. The 48V mild-hybrid system uses a belt-driven integrated starter/generator (BISG), replacing the alternator, allowing for the recovery and storage of energy typically lost during braking and coasting to charge a 48V lithium-ion air-cooled battery pack.
Ford says that the BISG can act as a motor integrating seamlessly with a low-friction, three-cylinder 1.0L EcoBoost combustion engine using the stored energy in the battery pack to provide torque assistance during normal driving and acceleration. Ford's BISG is also able to run the ancillary electrical system of the car. When the extra torque from the BISG is ladled into the normal engine power delivery, the car can deliver punchier and more responsive performance to the driver, particularly at low engine speeds.
Ford notes that the BISG was critical in allowing engineers to boost the 1.0L EcoBoost engine's power via a larger turbocharger while mitigating turbo lag. Ford fans interested in watching the official unveiling on April 2nd can watch the "Go Further" live or via replay here.