Ford Chip Ganassi Racing's driver lineup for the upcoming WEC 1000 Miles of Sebring is complete, with the team signing on American drivers Billy Johnson and Jonathan Bomarito for the sixth round of 2018-2019 Super Season.
Johnson will partner full-season drivers Olivier Pla and Stefan Muecke in the No. 66 Ford GT, while Bomarito will share the No. 67 entry with Andy Priaulx and Harry Tincknell.
Sebring will be the first time Bomarito has driven the Ford GT, with the American filling the seat left by IndyCar ace Tony Kanaan, who drove the car in last year's 24 Hours of Le Mans and 6 Hours of Spa.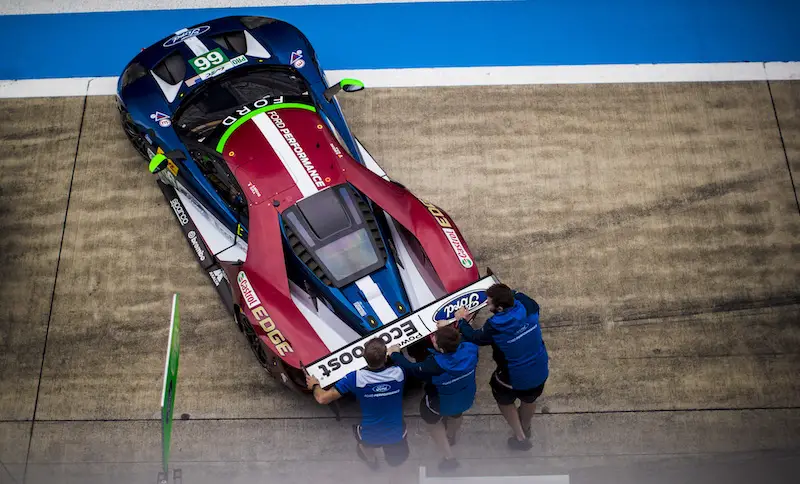 Bomarito typically drives for Mazda in the IMSA WeatherTech Sportscar Championship's DPi class, where he shares a car with Pla and Tincknell. With the IMSA 12 Hours of Sebring set to run a day after the 1000 Miles of Sebring, Bomarito, Pla and Tincknell will be rather busy in Florida.
As Sportscar365 points out, Mazda and Ford's road racing programs are joined at the hip by Multimatic Motorsports, an Ontario, Canada based outfit that developed both the Ford GT GTE and the Mazda RT24P DPi. Multimatic also produces the Ford GT road cars.
A number of other drivers are doing the so-called Sebring 'double' this weekend, including ex-Formula 1 driver Brendon Hartley. The New Zealand native, who lost his Toro Rosso seat to rookie Alexander Albon for 2019, will drive for Russian squad SMP Racing in the LMP1 class in the 1000 Miles of Sebring Friday before hopping into Action Express Racing's Cadillac DPi-V.R for the 12 Hours of Sebring on Saturday.
The FIA WEC 1000 Miles of Sebring will go green shortly after 4 p.m. ET on Friday, March 15. The IMSA 12 Hours of Sebring is set for 10:40 a.m. ET on Saturday, March 16.
(source: Sportscar365)
Photos by Drew Gibson via Chip Ganassi Racing