At the beginning of the year, we reported that Ford's autonomous vehicles subsidiary Argo AI has received the green light to begin testing its self-driving prototype vehicles on public roads in California. Around that same time, Argo AI received an autonomous vehicle testing permit from the California Department of Motor Vehicles, which allows it to freely test prototype cars on public roads. Ford has also been working with Argo AI to test how autonomous vehicles can benefit small businesses.
Last summer Ford and Argo AI approached local businesses to explore whether a delivery service enabled by self-driving vehicles could help businesses thrive in today's competitive environment. You can read the whole story from Medium here. Ford wanted to find out if there is demand for a service like, and if there is indeed a demand, what kind of vehicle would best serve the needs of diverse small businesses throughout the country. These small businesses include florists, dry cleaning services, and even a boutique pet care shop.
Ford and its team learned a lot from this project, most significantly that a convenient turnkey delivery service would indeed provide great value to small businesses.
The first first trial operated with an easy-to-use app where shops would request a test vehicle when they needed to make a delivery. While using the app, businesses were able to make deliveries on demand for items that needed to be delivered right away, but they could also schedule deliveries for specific future times. Routing technology was used to optimize the AV's travel schedule to ensure that it could effectively balance the demand of the businesses.
Although the vehicles that Ford used for the experiment were not actually equipped with self-driving technology yet, the experience was simulated by using graphics and sensor attachments throughout the car. It has been done this way so that Ford and Argo AI can gather insights on how people would really interact with an autonomous vehicles in the future, without the potential risks of prototype cars on public roads. The development Ford's self-driving technology in the partnership with Argo AI has continued to keep prototypes independent from business experience tests.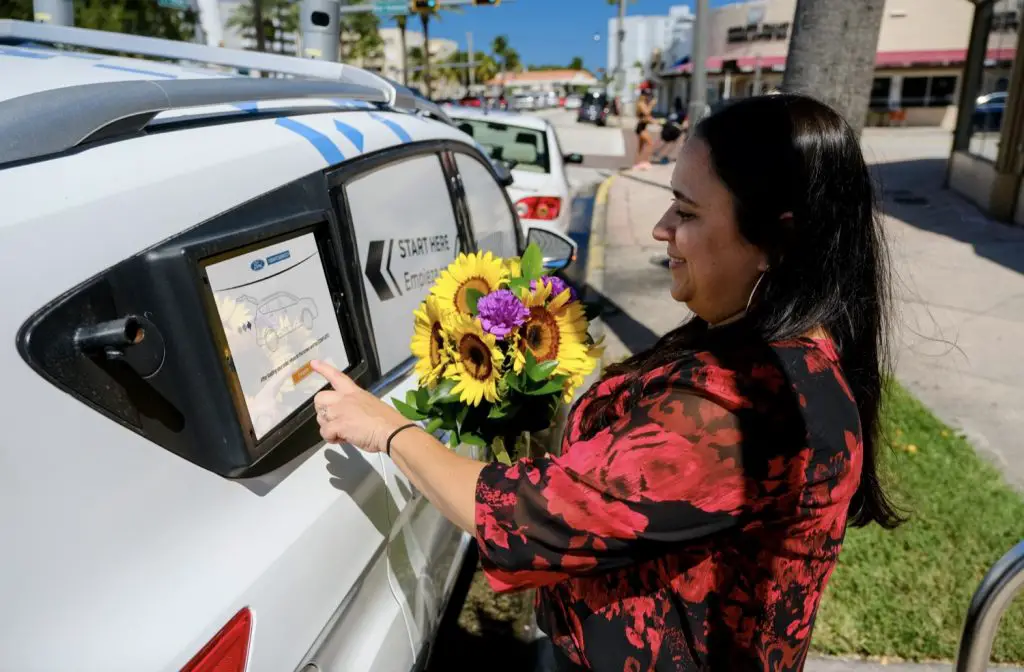 This specific test program used a customized Ford Escape to handle the deliveries. Medium says that the Escape's cargo area was outfitted with a foam vase holder capable of securing four different floral arrangements, as well as with a clothes rack for items from the dry cleaners. Modifications like these helped to provide Ford with important insights into how to make an autonomous vehicle delivery service most valuable to customers and businesses.