The pickup truck has no shortage of usefulness, and the people at Ford seem to be continually innovating new ways to use the utilitarian truck bed of the F-Series. Normally associated with work, a recent patent filing brings the usefulness of the truck bed into the realm of recreation. Specifically, movie entertainment.
A new patent was published by back in 2017 Ford that is titled, "portable entertainment support system for a pickup truck box," and will look to bring the drive-in movie theater to you, rather than the other way around. The patent currently assigned to Ford Global Technologies describes a drop-in solution for the bed of the F-Series that will support an entertainment system using receptacles in the sidewalls.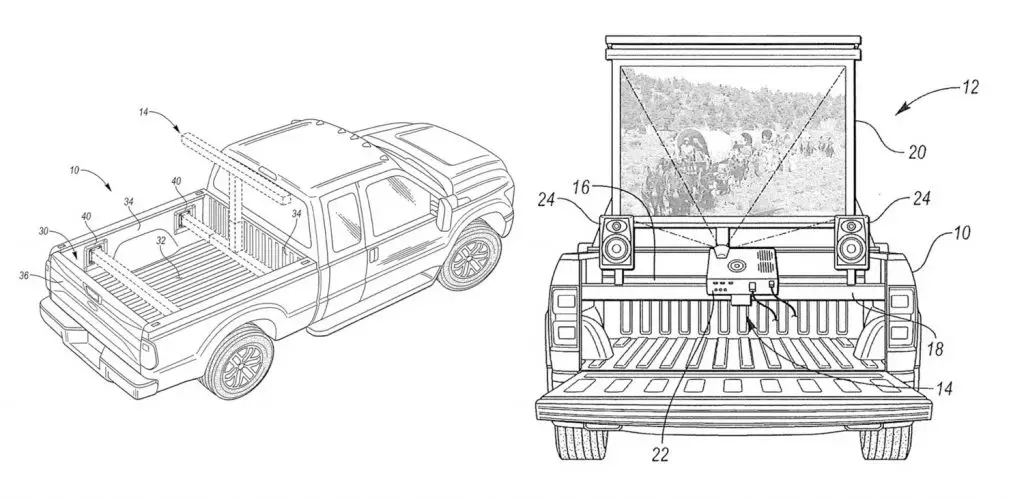 From the patent, "the entertainment support system includes a first mount having a first horizontal arm extending between opposing sidewalls of the truck box, and a vertical arm extending orthogonal to the first horizontal arm." The explanation continues, "the entertainment support system further includes a second mount including a second horizontal arm extending between the opposing sidewalls parallel to and spaced from the first horizontal arm."
Now imagine that dropped tailgate covered in snacks. And lawn chairs surrounding it. With a bit of LTE reception, it's easy to imagine the night game being played in the stadium next door being streamed through the projector for fans to enjoy. It would be a next level tailgate party, from the future.
What do you think? Would you like to turn your F-Series into a portable movie theatre? Do you want to Netflix and chill with your significant other without leaving your truck behind? We're curious as to if and when this will actually see production, but we don't doubt that buyers would eat it up. You can check out the patent in its entirety here.
For all things Ford F-150, subscribe to Ford Authority and never miss a beat.