The second generation Ford F-150 Raptor is an amazing truck on and off-road right from the factory. Under the hood is 450 horsepower from a twin-turbocharged EcoBoost V6, but some people believe that the standard Raptor needs more potency, and two more cylinders. Last year we watched Hennessey Performance, and their V8-swapped Ford F-150 VelociRaptor make a dyno run, and now we get to see how much better it really is when drag raced against its stock sibling.
If you don't know the name by now, Hennessey is a Texas-based tuner that will transform your Ford, or Chevy, or pretty much anything with an engine, into a high-output monster. They have managed to make the Ford Raptor faster, louder, and tougher, and they call it the VelociRaptor.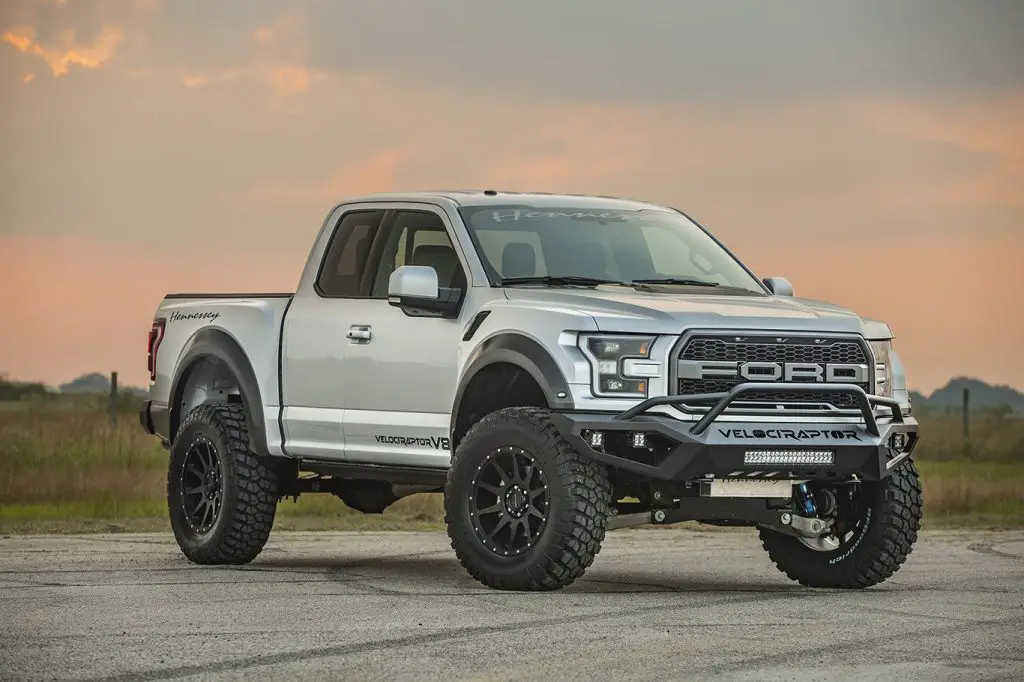 Hennessey ripped out the EcoBoost V6 and swapped in a brand-new 5.0-liter Coyote V8 engine, and supercharged it, creating the VelociRaptor. The VelociRaptor V8 conversion is a pretty standard engine swap, and retains the Ford 10-speed automatic transmission, Ford wiring harnesses, and ECU. Hennessey cranks up the power to 758 horsepower thanks to the supercharger – a 2.9-liter unit that twists seven pounds of boost pressure. Hennessey says the VelociRaptor will do zero to 60 mph in 4.1 seconds.
All those performance figures are great, but how does it translate to a real-world application such as, say, a drag race? Hennessey has answered that question by lining up a stock Ford Raptor next to their VelociRaptor, and the difference is staggering.
Watch the V8 VelociRaptor leave the standard Ford Raptor in the dust, and let us know in the comments if you think that the (dramatically increased) $147,950 price tag is worth the (dramatically increased) performance.