Ford released several updates to their commercial lineup at the NTEA Work Truck Show in Indianapolis on March 5, 2019 including the 2021 Ford Medium Duty series. What may peak your interest even more, though, is a hybrid Ford F-250 from a company called XL that claims a 50 percent increase in efficiency. The new truck also debuted at the NTEA show this week.
XL claims leadership in vehicle electrification solutions for commercial and municipal fleets in North America. XL is working with customers such as The Coca-Cola Company and Verizon, as well as Yale University, the City of Boston, and the City of Seattle. XL has unveiled the first plug-in hybrid Ford F-250 Super Duty pickup truck at the NTEA Work Truck Show in Indianapolis, making it the start of an expanding plug-in hybrid electric (PHEV) product family. Their current lineup includes the XLP Ford F-150, which the company began shipping throughout the U.S. in 2018.
Ford announced that they will be tailoring navigation applications specifically to commercial vehicles to improve efficiency, and business owners will now be able to combine those savings PHEV tech in an F-250. According to an initial assessment, XL is reporting that the XLP hybrid Ford F-250 will provide up to a 50 percent improvement in miles driven per gallon when compared to a conventional F-250. The XLP will also reduce greenhouse gas (GHG) emissions by 33 percent during normal day-to-day operation. These figures from XL are consistent with the performance data that the PHEV F-150 has proven to achieve at EPA-certified testing facilities.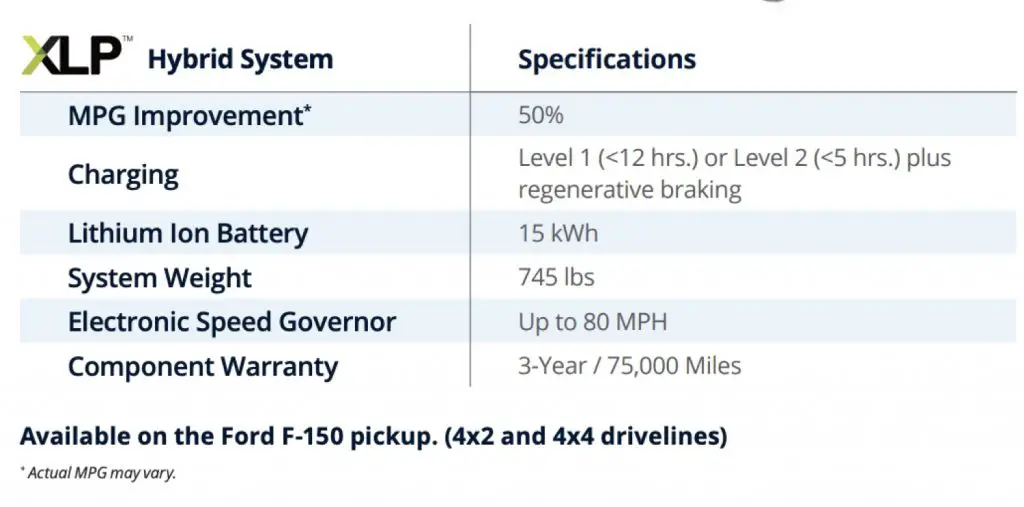 Check out the above chart from XL that contains detailed information about the hybrid Ford F-250.
Powering the XLP hybrid Ford F-250 is a high voltage 15 kWh lithium-ion battery pack that is compatible with Level 1 and Level 2 charging stations. The truck will utilize an industry-standard J1772 plug interface for ultimate versatility. The battery can also be charged by regenerative braking during everyday driving, which captures and stores energy created while the vehicle slows down. That energy is then transferred back into the drivetrain through an electric motor, which assists the vehicle during acceleration, therefore reducing fuel consumption, CO2 emissions, and brake wear over time.
XL says that the entire system weighs 745 pounds and is professionally mounted onto existing factory components. The XLP F-250 system has no effect on Ford factory warranties, and requires no special maintenance procedures or charging infrastructure enhancements. A 3-year/75,000 mile component warranty is included from XL.
According to XL, the product is scheduled to begin shipping to customers before end of year, 2019.