Ken Block has given Ford fans reason to drool historically, and his newest vehicle adds to an unbelievable collection of Blue Oval beauties. This Ford Escort Cosworth was designed from the ground up to combine unique looks, a new livery, and of course, tire shredding performance.
Those watching this space for a while may have remembered that Ken Block already had a Ford Escort Cosworth barely a year ago. Then it crashed, and burned. Block escaped the wreck, but Cossie was toast.
Ken Block and the Hoonigan team worked with digital creative Ash Thorp, a video effects and CGI mastermind to create the new vehicle design for this new Ford Escort Cosworth. Thorp has worked on major feature films including X-Men: First Class, Prometheus, and Ghost in the Shell. Block and Thorp wanted to design a modern interpretation of what a Ford Escort RS Cosworth rallycar would look like if the Escort was manufactured in 2019. Their resulting work is being called the 'Cossie V2' or 'Cossie 2.0', and is arguably the most wild-looking Escort RS 'Cossie' in existence.
Thorp took care of the design process, but when it came to the 2019 livery, Block chose to once again collaborate with his long-time friend, world-famous moto helmet painter, and moto gear designer, Troy Lee (of Troy Lee Designs). Lee brought an old-school racecar livery feel to the Cossie 2.0 and also painted Block's 2019 helmet to match.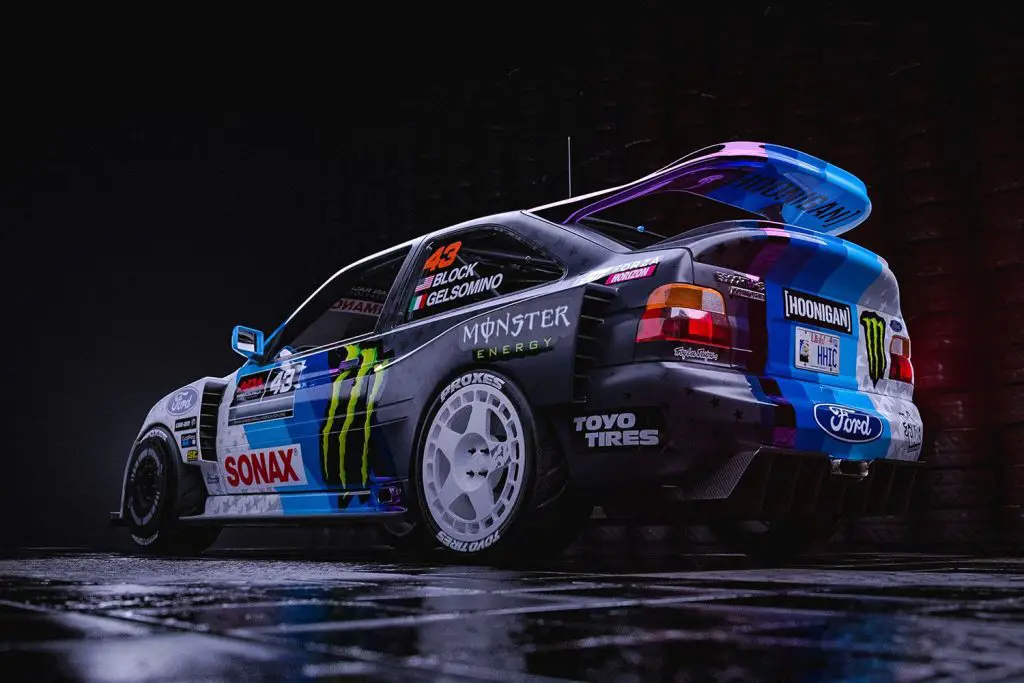 Design and performance were emphasized equally when building this new Ford Escort Cosworth. The car features fender arches and aero touches derived from the current Ford Fiesta WRC cars. The track has been widened by 4.3 inches making the Cossie 2.0 sit noticebly wider than a standard Escort Cosworth. Additionally, there have been aero enhancements made to the world-famous wing, with an additional Gurney style flap added to it.
Interestingly, the new car features a dual side-exit exhaust and and a rear-mounted center-exit exhaust setup, which are interchangeable depending on regulations at specific rally events. Under the hood is a Ford YB engine built and tuned by Julian Godfrey. The new Ford Escort Cosworth makes 371 horsepower with a 34mm restrictor in place to meet regulations. The suspension and geometry have been updated, and an improved safety cage design has been added. The Cossie 2.0 also features a Sadev 6-speed sequential gearbox – different from the original 7-speed, which was chosen to ensure reliability and durability for Block and his team.
Ken Block will begin a 'Cossie World Tour' next week. The video series will follow both Block, his co-driver Alex Gelsomino, the Honnigan team, and his Cossie V2 as they travel the world competing in national-level stage rally events. The car will also appear at events like the Goodwood Festival of Speed and Gymkhana GRID.
Watch the video above to see the entire design process, and check out the full schedule below:
March 15-16: Rally in the 100 Acre Wood, Salem, U.S.A.
May 3-5: International Rally of Whangarei, Whangarei, NZ
June 21-23: Donegal International Rally, Donegal, IRL
July 4-7: Goodwood Festival of Speed, West Sussex, ENG
Sept 7-8: Gymkhana GRID Poland, TBA, PL
Oct 11-13: Rally Legend San Marino, San Marino SMR
Oct 18-20: PENDING: Rallye International du Valais, Martigny, CH
Nov 5-8: PENDING: SEMA, Las Vegas, USA