Joey Logano held off Team Penske teammate Brad Keselowski to win Sunday's Pennzoil 400 at Las Vegas Motor Speedway in a Pennzoil-sponsored No. 22 Ford Mustang. The result gave Team Penske a dominant 1-2 finish and marked the second win in as many races for the new NASCAR Ford Mustang body after Brad Keselowski won in Fontana late last month.
The race was the first race for NASCAR's new competition spec aero and engine package. The race ran green from start to finish, save for the mandatory stage breaks, and was incident free – an extremely rare occurrence in today's NASCAR landscape.
The new engine and aero package is designed to produce better racing, although fans and drivers were of mixed opinion on the quality of Sunday's race. According to NASCAR.com, this year's race had 47 green-flag passes for the lead, compared to nine in last year's race, and more than 100 green-flag passes in total.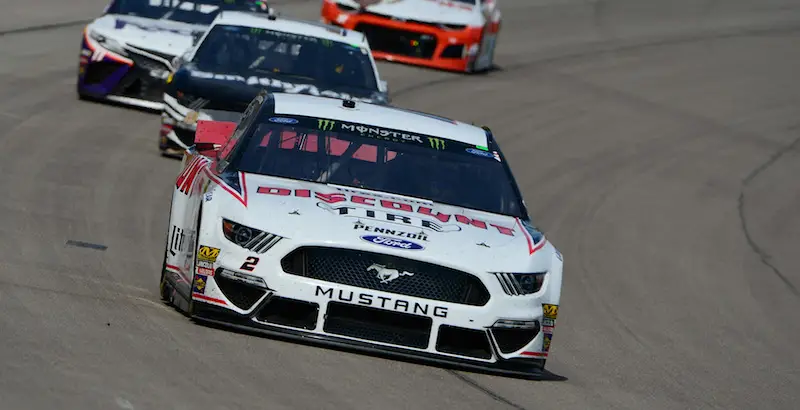 The Penske Fords looked strong for most of the day, with Logano appearing in contention for the win from start-to-finish, leading a total of 86 laps.Kevin Harvick led a race-high 88 laps in his Stewart-Haas Racing No. 4 Jimmie Johns Mustang, but didn't have the same race-winning speed late in the race, with his Mustang's handling deteriorating in the third stage.
Keselowski didn't appear to be particularly fast early on, but found speed later in the race and eventually challenged Logano for the win. Keselowski but was unable to get close enough to truly attempt for a pass, though.
"What a great race," Logano said. "Brad and I were so evenly matched, and you just can't drive away (with the lead). In the last five or six laps, Brad was catching me so quick, and I got stuck behind a lapped car. Man, it was so close. Lots of fun – my heart's still running hard."
Logano now leads Harvick from Daytona 500 winner Denny Hamlin in the 2019 MENCS standings after three races. The season will continue with the TicketGuardian 500 from ISM Raceway in Phoenix on March 10th.