Roush Performance has developed a new supercharger for the Ford Mustang and Ford F-150 pickup. The 2.65-liter unit can be mounted to 5.0-liter V8s and features new Twin Vortices Series (TVS) technology, including four-lobe rotors and high-flow inlet and outlet ports. This greatly enhances thermal efficiency and enables greater volumetric capacity at higher revolutions per minute. As an added benefit, the new Roush supercharger will be legal in all 50 states, including the People's Republic of California.
The Roush supercharger kit is called the 'TVS R2650 Phase 1', and will be made available for the 2018-2019 Ford Mustang and 2018-2019 Ford F-150. These complete, bolt-on kits boost the 5.0-liter Mustang GT to 700 horsepower and 610 pound-feet of torque, and the 5.0-liter F-150 to 650 horsepower and 610 pound-feet of torque. Best of all, this power can be taken advantage of no matter where you live in the United States. Roush Performance has announced that it has received CARB EO numbers and has passed emissions testing for its new TVS R2650 Phase 1 Supercharger Kits.
"We're proud to say that our newest Phase 1 superchargers are now legal to be installed on vehicles in all 50 U.S. states," said Jack Roush Jr. "Now that the Phase 1 Supercharger Kits are emissions-legal, we can bring legendary Roush performance and reliability to enthusiasts from coast to coast."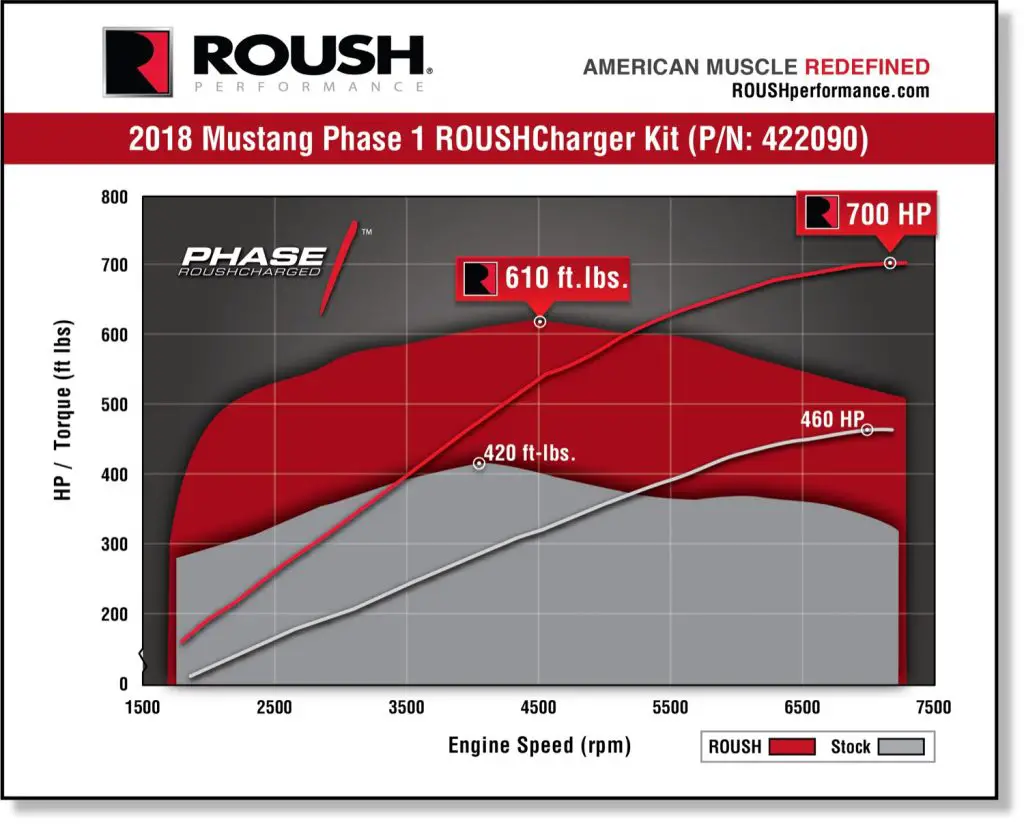 Check out the above dyno sheet to see how much of a difference the new Roush supercharger will make when strapped to a Mustang GT.
Boost will be set at a reasonable 12 psi, which allows Roush to offer the kit with a warranty. That's right, if you have the blower installed by a Ford dealership or an Automotive Service Excellence (ASE) certified technician, the kit will be backed by a 3-year/36,000-mile limited powertrain warranty. Get ready to (almost) double the current output of your Mustang GT or Ford F-150 without a worry in the world. Except buying new tires. You'll need lots of those.
The Roush Phase 1 2018-2019 Mustang GT supercharger kit is priced at $7,699.99 while the Roush Phase 1 2018-2019 F-150 supercharger kit is priced at $7,799.99.