The Ford Mustang Shelby GT350 was made for use on road and track, and if you've ever driven one you know how capable it really is. Although the GT350 is street legal, it will get you into a ton of trouble if you attempt to find its limits on public roads. That's why it's always best to take your driving skills to the track in a car like the Shelby GT350. That's just what the owner of this white Shelby did, and at one of the most spectacular racetracks in the world: the Nurburgring.
There are a lot of great tracks throughout the world, but the Nurburgring Nordschleife, known to many as 'The 'Ring', is seen as the most demanding. The various sections of the 12.9-mile road course attracts no shortage of manufacturers, which bring in top performance models to see how fast they can go around The Green Hell, and them proceed to boast about their lap times.
Current production car lap record holding vehicles include the Lamborghini Aventador SVJ, Porsche 911 GT2 RS, and Lamborghini Huracan Performante. The Shelby GT350 can't touch the times of those six-figure supercars, nor is it trying, but it still has what it takes to deliver a very fast lap. And it arguably emits one of the best sounds while doing it.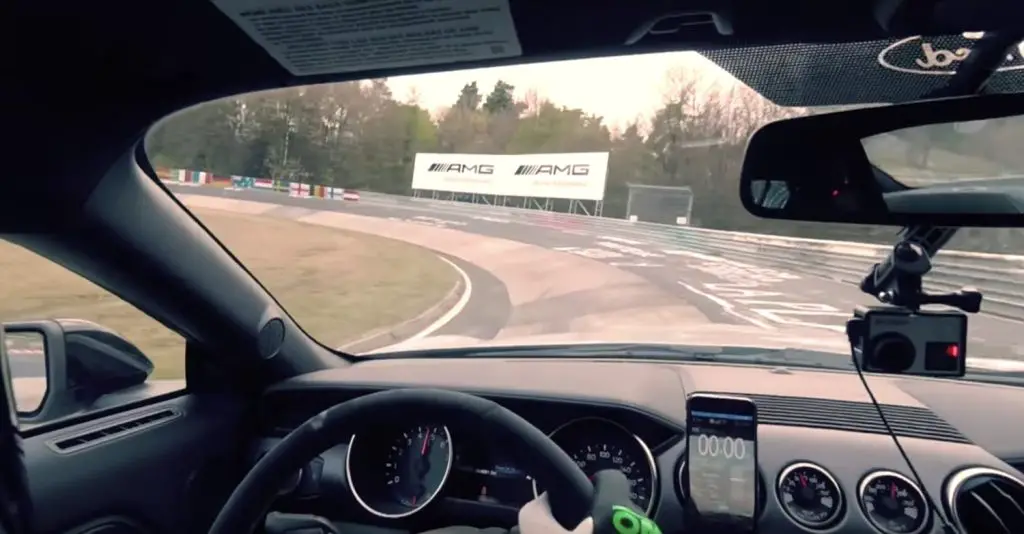 Under the hood, the Shelby GT350 packs 526 horsepower and 429 pound-feet of torque from a flat-plane 5.2-liter naturally aspirated V8 engine. We adore this engine, and if you turn the sound all the way up when you watch this video, you'll understand why. Ford was able to derive a truly exotic soundtrack from the GT350, and the combination of engine noise and exhaust racket results in a rowdy lap at The 'Ring.
Subscribe to Ford Authority for more Mustang news delivered directly to your inbox.