At times when people are cruising the highways around the country, particularly in areas where automakers like to test vehicles, they run across unreleased cars in the wild. A video has surfaced on YouTube that shows a guy trailering a Hellcat when he spies a pair of 2020 GT500s in traffic. One of the Shelby GT500 cars is in what we assume to be the Grabber Lime color Ford has announced while the other is blue.
In the images that Ford shared of Grabber Lime, the color looks metallic. If the GT500 in the green hue in this video is indeed Grabber Lime, the color isn't metallic at all in the real world. The green GT500 appears to be wearing either the Carbon Fiber Track Package spoiler or the Handling Package spoiler, while the blue Shelby GT500 has the standard rear spoiler attached. The video gives no clear indication of how the GT500 sounds.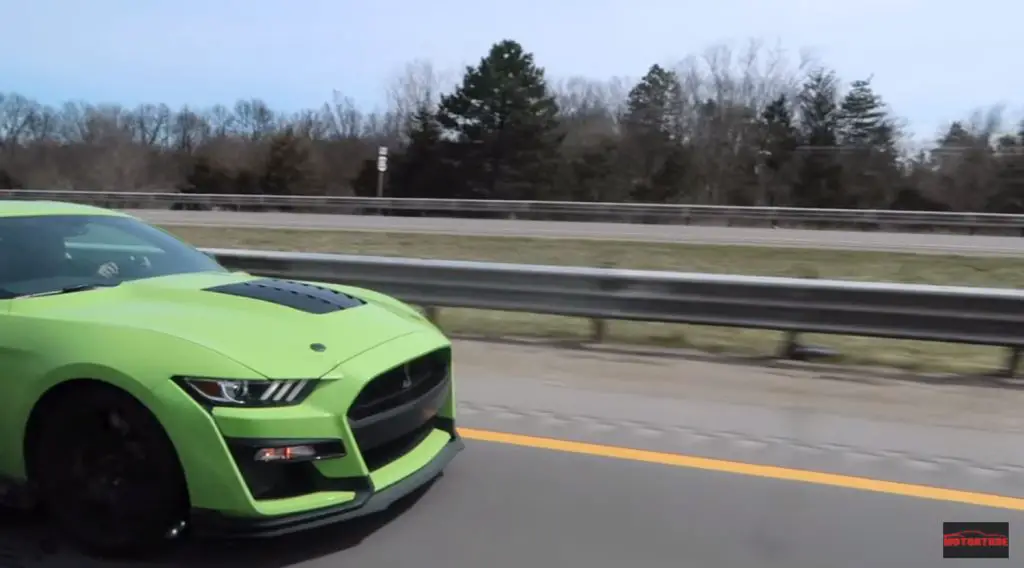 We already know most of what there is to know about the 2020 Ford Mustang Shelby GT500. There are some key facts we don't know still including the price and exactly how much power the car will make. All we know on the power front right now is more than 700 horsepower. Ford isn't targeting top speed with the 2020 GT500 as it was with previous generations and has already announced that the new GT500 will have a lower top speed of 180 mph compared to the current GT500 topping out at 202 mph.
Ford has also detailed all the work it put into the aerodynamics and cooling for the 2020 GT500. Ford fans who feared that the Grabber Lime color for the 2020 Mustang line would look anything like the Legend Lime hue that wasn't popular in the S197 days should feel better.
Subscribe to Ford Authority for more Shelby GT500 news and around-the-clock Ford news coverage.