For fans of the Mustang, the sound the car makes as it takes off and drives down the highway is as important as the way the car looks and performs. One of the oldest names in exhaust systems to get more sound out of the Mustang is Flowmaster. The company has an axle-back exhaust system that is made just for the 2015 through 2018 Mustang with the 2.3-liter EcoBoost engine.
Flowmaster has a video online that was published recently that gives owners an idea of the sound expected from the Mustang EcoBoost exhaust system when installed. Flowmaster might not be able to provide you with the rumbling sound of a V8 with the 817713 Mustang EcoBoost exhaust axle-back system, but it does improve the sound.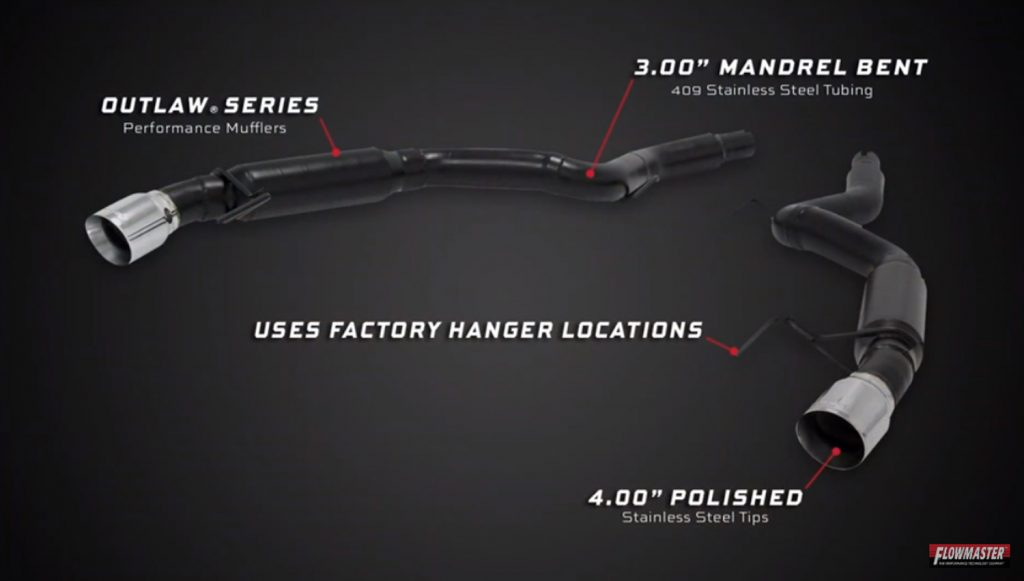 Flowmaster has exhaust systems for many Ford vehicles including the Mustang GT with its V8 engine and F-150 truck. The 817713 Mustang EcoBoost exhaust system will work on the coupe or convertible 2015-2018 EcoBoost Mustang. One big concern when changing the exhaust on any vehicle is an annoying drone at highway speeds. Flowmaster says that this exhaust has a moderate amount of interior noise.
The exhaust is designed to use the factory hanger locations and has larger 4-inch brightly polished exhaust tips. It's made from 3-inch mandrel bend inlet tubing with 2.25-inch connections to fit the stock mid pipe. Full instructions are included and Flowmaster says owners can install this system at home. The Flowmaster Outlaw Axle-Back Exhaust Kit 817713 has no valves, meaning it's for the non-active exhaust cars and sells for $419.99. Be sure and watch the video to hear what Flowmaster can do for the base 2.3-liter EcoBoost Mustang.
Subscribe to Ford Authority for more Ford Mustang news and around-the-clock Ford news coverage.