The No. 66 Ford GT of Dirk Mueller and Sebastian Bourdais suffered an unfortunate end to Saturday's Bubba Burger Sportscar Grand Prix from Long Beach.
Bourdais, who was filling in for a sick Joey Hand in the No. 66 Ford GT this weekend, qualified an impressive fourth for Saturday's race. After getting a strong start, Bourdais handed the car over to Dirk Mueller, who then began to work his way through the field and found himself leading the GTLM class by the end of the first round of pit stops.
A wild finish in the GTLM Class in the @IMSA Sports Car Grand Prix of Long Beach!

Jan Magnussen has nowhere to go, getting into the back of the Ford GT. #BubbaGP pic.twitter.com/XAKTmu886R

— NBC Sports (@NBCSports) April 13, 2019

Disaster struck for Mueller about 45 minutes in, though, when the German driver accidentally hit the pit limiter button on the steering wheel of his No. 66 Ford GT. This allowed the No. 912 Porsche 911, which started second in GTLM, to easily sail past and claim first.
The No. 66 then held off a hard-charging No. 3 Corvette C7.R when Mueller ran out of fuel with just two laps to go. Jan Magnussen in the No. 3 Corvette then punted the Ford GT out of the way as he accelerated, expecting the Ford GT to have accelerated at the same rate.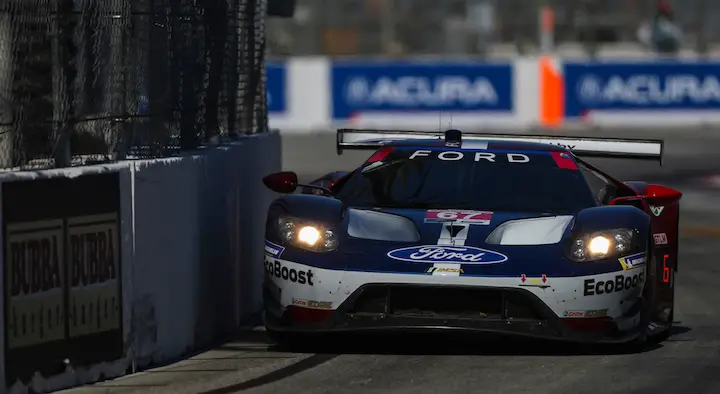 In the end, the No. 912 Porsche 911 took the win, while the No. 3 Corvette and No. 4 Corvette capitalized on the Ford team's errors to take a double podium. The No. 67 Ford GT, which didn't have the same pace as the No. 66 sister car, finished sixth in GTLM ahead of the two BMW M8 GTLMs.
IMSA heads to Mid-Ohio next for the 2019 Acura Sports Car Challenge on Sunday, May 5th, 2019.
Click here for full results from the 2019 IMSA Bubba Burger Sportscar Grand Prix.
Photo by Galstad via IMSA