Ford versus Chevy. It's a tale as old as time, right? Right. So it doesn't come as much of a surprise that a South Carolina Ford dealer decided to further the rivalry by way of a billboard that has since ignited an entire billboard war.
Ravenel Ford and Marchant Chevrolet are a mere two miles from one another, making for a competition that hits close to home both figuratively and literally. It all started when the Ravenel Ford dealership posted a billboard featuring a 2019 Ford Ranger with the words "Behind Every Good Ford Is A Chevy." Marchant Chevrolet was not about to let this go unnoticed, so it responded with a billboard of its own. The ad shows the new 2019 Chevy Silverado beside the words, "Because You Won't Move Out Of The Fast Lane."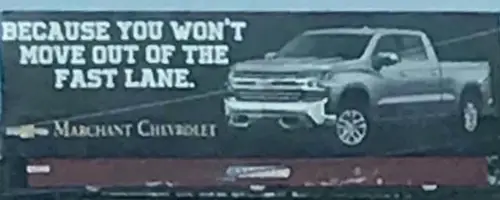 The Chevrolet dealership took to their website and wrote, "The battle has begun, but the war is far from over! Marchant Chevrolet's team is hard at work in the war room. Our competition has awoken a sleeping giant!" The dealer also tweeted the image containing both billboards saying, "Our enemy has thrown a decisive blow, but fortunately WE ARE MIGHTY! The billboard war in Ravenel RAGES on!"
The South Carolina Ford dealer, Ravenel Ford, also voiced its opinion on the war that has ensued. The Ford dealership has an entire page on its website devoted to the event explaining that "We will accept nothing less than victory" and that the Blue Oval store "is about to embark upon the Great Crusade." The business goes on to take another jab at Chevrolet by saying, "The task will not be an easy one. The enemy is well trained and well equipped. LOL It's a Chevy never mind."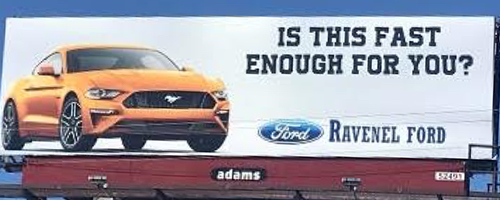 Well, the wait is finally over. Here is Ravenel Ford's latest response. It's a shiny new ad showcasing the 2019 Ford Mustang, with the question: "Is This Fast Enough For You?"
Subscribe (for free) to Ford Authority for more Ford Ranger news, Ford Mustang news, and around-the-clock Ford news coverage.