Zero Labs is a company taking cars that were never offered with battery power and converting them to run on pure electricity. Its new offering is a classic Ford Bronco that you can bet Ford never dreamed of in the '60s. The only sign that the Ford Bronco you see here isn't a tastefully restored classic is the front grille that is sealed up. That is a hint that the car needs no airflow for a radiator because there is no combustion going on under the hood.
Zero Labs takes a vintage Bronco and rips out the gas engine and replaces that with a 369-horsepower electric motor mated to a five-speed manual transmission. This EV has a manual transmission, something you don't see in the EV realm, and rowing your own goes with a retro ride like the Bronco. Zero also fits the Bronco with a two-speed transfer case, adjustable Fox shock absorbers, and upgraded Brembo brakes.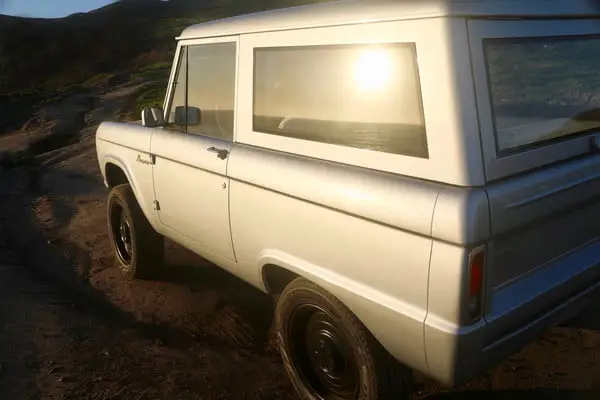 The battery pack giving the electric Bronco the juice it needs to get around is a 70 kWh unit that promises a driving range of 190 miles per charge. That is further than a Nissan Leaf can drive on a charge, but take that range with a grain of salt. The Leaf underwent the rigorous and standardized EPA testing process for its driving range; there is no indication that Zero Labs' EV Ford Bronco did.
Charging the battery is via an integrated Level 2 AC charger, which is the only charging option. DC Fast charging isn't supported by the vehicle. If the idea of a vintage Ford Bronco with an EV heart tickles your fancy, Zero Labs intends to build and sell these vehicles. Reservations are being accepted at no cost.
For starters, only 150 first-edition electric Bronco SUVs will be offered. Pricing is a mystery, but consider that a nicely restored vintage Bronco isn't cheap on its own and you can bet these rides will be costly. Buyers can order their electric Bronco with leather seating and walnut and bamboo trim; a vegan interior is an option as well. With Ford bringing the Bronco back, a future version powered by electricity certainly isn't out of the realm of possibility. The automaker is expecting big earnings from the factory where the Ranger and Bronco will be built.
Subscribe to Ford Authority for more Ford Bronco news and around-the-clock Ford news coverage.
Source: Digital Trends