The average person drives somewhere in the area of 1,200 miles per year. That means the owners of this beautiful 1959 Edsel Corsair Convertible hardly ever drove the car. It is being sold with a Pensylvania title that claims the car has 20,480 actual miles on the clock and the seller says that mileage is correct. The car is coated in President Red and has the chrome, whitewalls, and skirts you might expect of a '50s car.
Ford built only 1,343 the 1959 Edsel Corsair Convertible cars. This particular car has a 361 cubic inch Super Express V8 with a 4-barrel carburetor. The seller's description says that the VIN code for the V8 engine in the car is "W." The V8 is paired up with a Dual Power Drive 3-speed automatic transmission and a 9-inch rear. With such low mileage and the car being in such excellent condition, the assumption would be that it has been restored.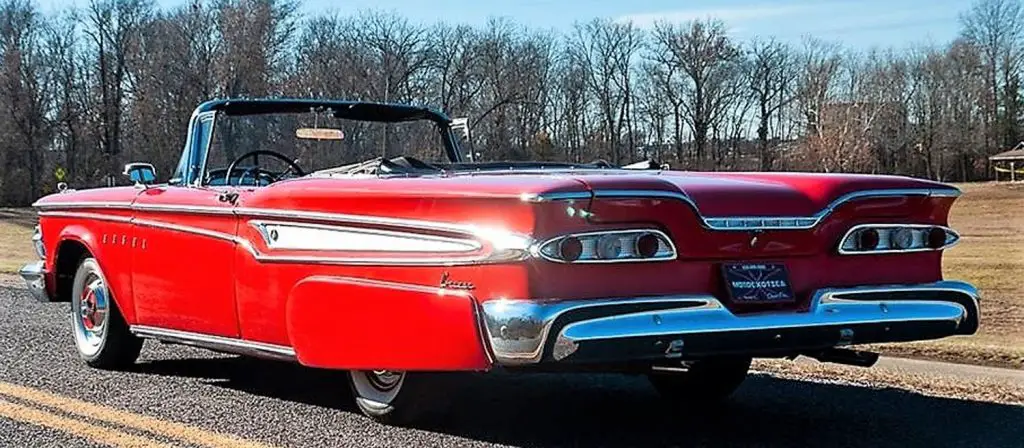 There is no mention of a restoration hinting that this 1959 Edsel Corsair Convertible could be a survivor car that was well taken care of over the years. The whitewalls on the car are new Coker tires, and the car has only two minor issues. One is the non-functional fuel gauge, and the other is broken windshield wipers. The 1959 Edsel Corsair Convertible power folding top is white.
The seller has no images of the interior of the car, presumably, it's as clean as the outside of the car, but you never known. While there are no interior images, the description says everything is in good condition. The interior is black and red vinyl, and the car comes with the original owners manual. If your tastes lean more towards 1950s Ford cars that are customized, check out this 1950 Ford Tudor.
Subscribe to Ford Authority for more Ford classic news and around-the-clock Ford news coverage.
Source: Classic Cars