In 2014, the movie Need for Speed hit theaters and did well at the box office, even if critics shredded it. It was one of the few car guy and gal movies to hit the theater that year and had Aaron Paul of Breaking Bad fame spending much of the film behind the wheel of a very cool Mustang. To film the high-speed chase scenes of that movie the production crew needed a hopped up camera car so they turned to a highly modified 2013 Ford Mustang GT that could be yours on eBay motors.
The matte black camera car with the metal and glass box in the trunk is the car that the production team had commissioned at Saleen to keep up with the high powered cars in the film. The car appears to have started as your average Kona Blue 6-speed 2013 Ford Mustang GT before being transformed into a flat black car that would be at home in the post-apocalyptic wastes. The eBay listing claims the 2013 Ford Mustang GT has 7,791 miles on it and it has been torn up on the inside to fit camera equipment.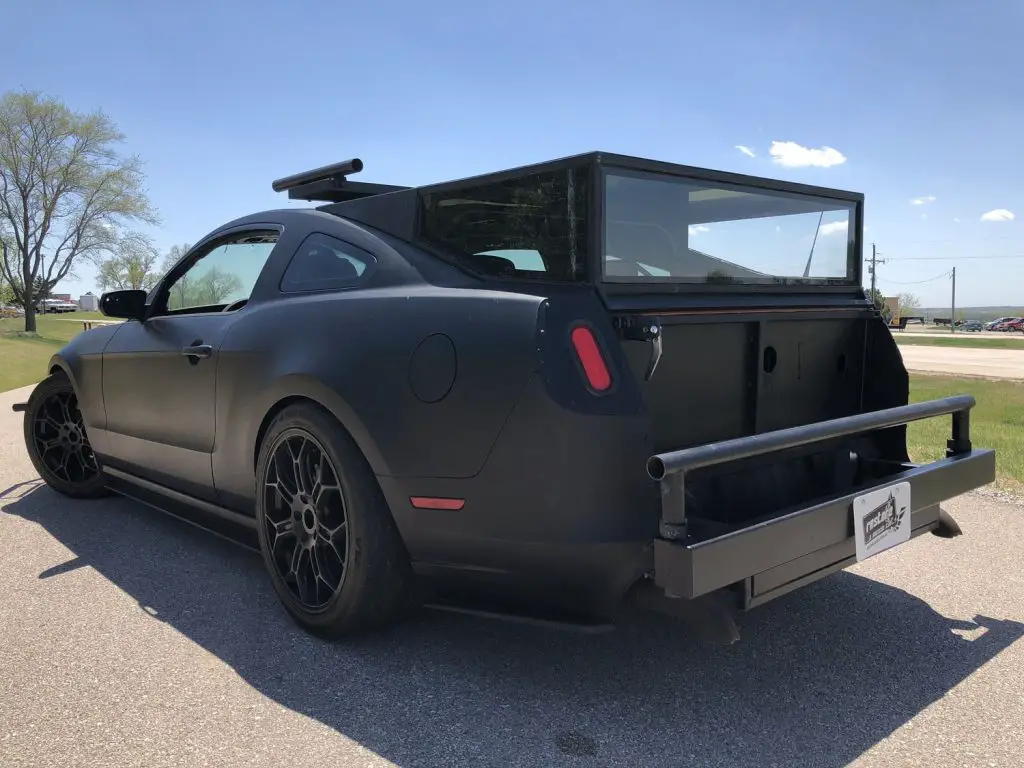 Under the hood, the car is stock save for the Saleen supercharger that pushes the 5.0-liter V8 engine to 625 horsepower. The car was fitted with Saleen 3.73 gears and Saleen 14-inch brakes. The car still has its factory Shaker stereo system in the half dash that is left inside the car. The passenger side airbag and dash pad were cut away to allow room for additional electronics needed for filming.
Passenger and driver are strapped securely into Corbeau racing seats with shoulder harness seat belts. A custom roll cage keeps everyone inside safe in the event of a crash. Underneath the glass hatch are mounts for various types of cameras. Other than the odd looks and what appears to be a rattle can flat black paint job, the Mustang GT has modifications that cause the tire, airbag, and door sensor lights to be on at all times. The seller is asking $39,900, and this 2013 Ford Mustang GT camera car will need a special buyer. Last November we saw a Ford Edge ST that was turned into a camera car for filming chases.
Subscribe to Ford Authority for more Mustang news and around-the-clock Ford news coverage.
Source: Road and Track