We've talked a bunch about the 2020 Ford Mustang 2.3L High Performance Package car already. We've talked about how the high-performance car cools its brakes. We've shown you the supportive seats inside the car, and we've talked about its special badging. At the 2019 New York International Auto Show, Ford had a pair of 2020 Ford Mustang 2.3L High Performance Package cars on hand. They boast the same features, but in different colors with different color wheels.
The front of the car shows the raked windshield for aerodynamics and the pair of vents on the hood that are reminiscent of the 1967 and 1968 Mustang. A pair of black stripes follow the hood line, fading as they move towards the windshield. The headlights are pushed to the edges of the front bumper and have three gills on the inside corners meant to remind of past generations of the Mustang. The trapezoidal grille has a galloping pony emblem on the left side.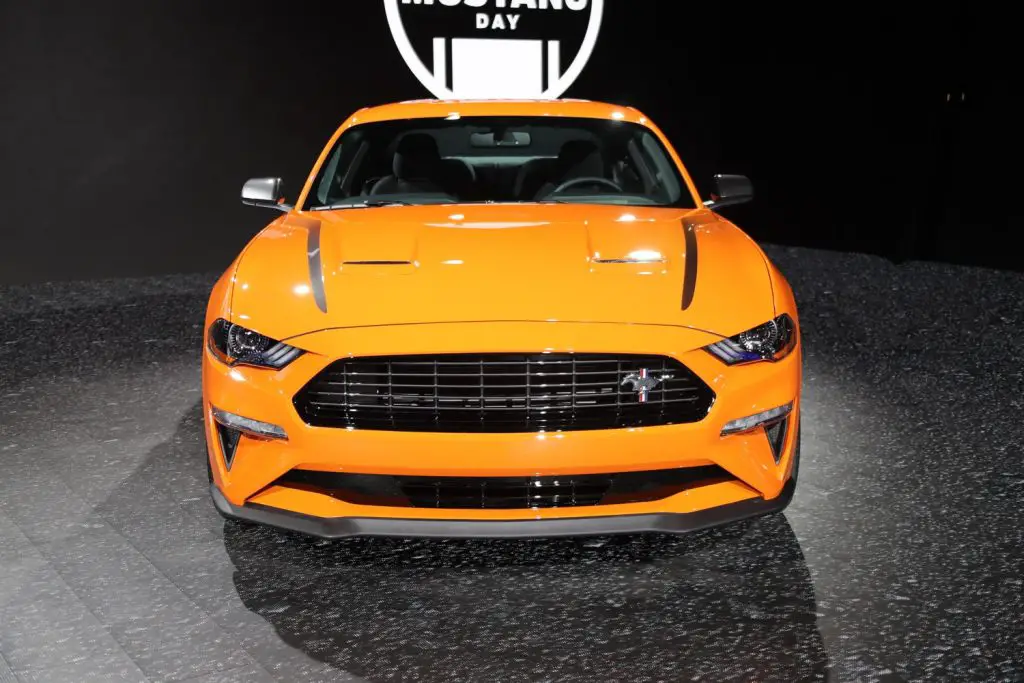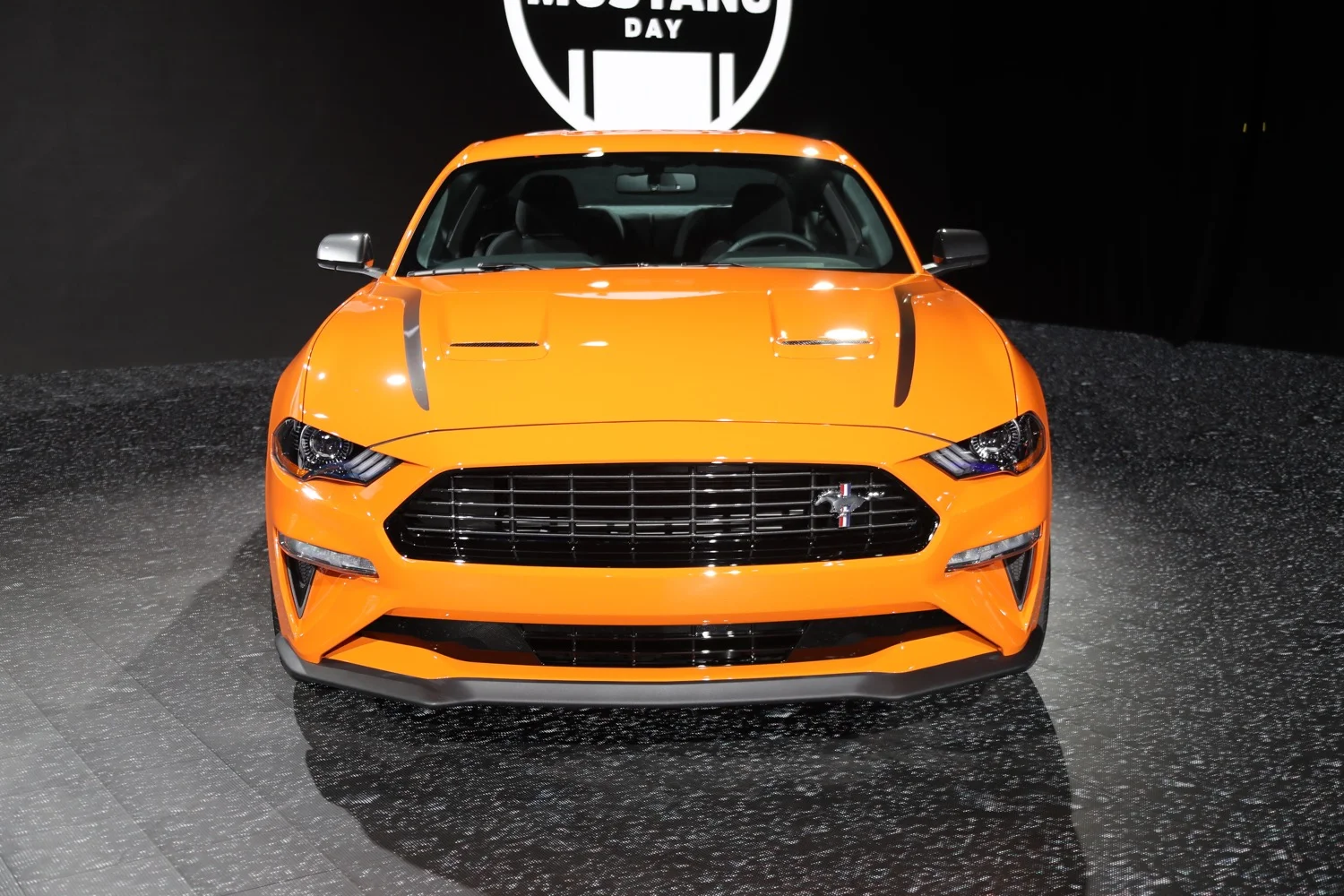 Under the front bumper is another section of the grille that looks similar to the 2020 Ford Mustang Shelby GT500, but on a smaller scale. The triangular black openings on the side of the grille aren't for brake cooling as one might assume, the 2020 Ford Mustang 2.3L High Performance Package cools its brakes from underneath. On the bottom is a black lip spoiler that gives the car a menacing look.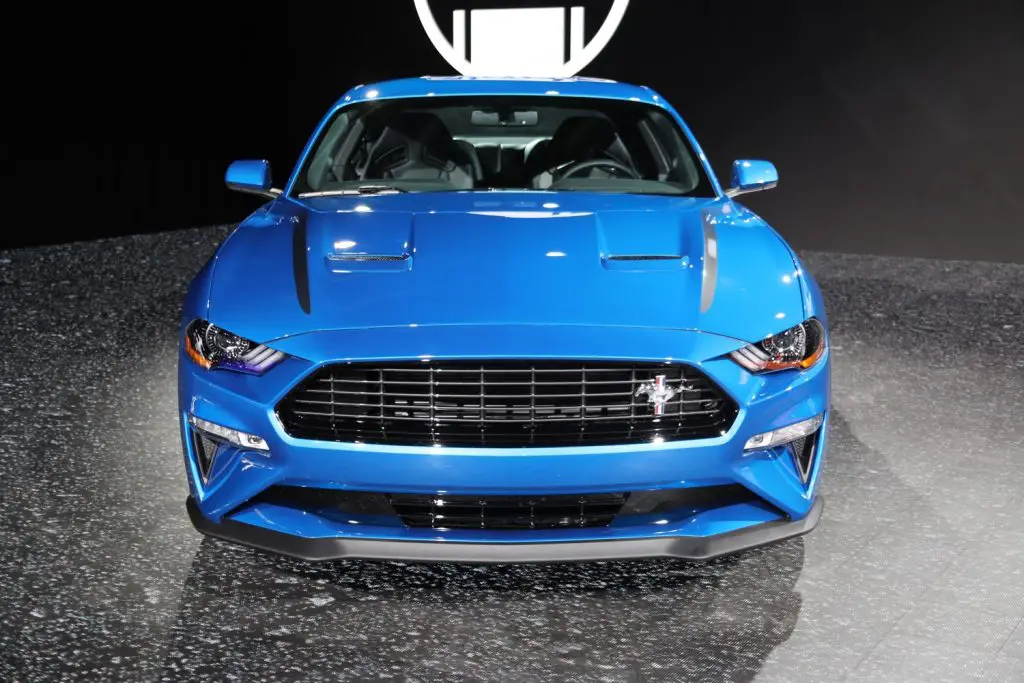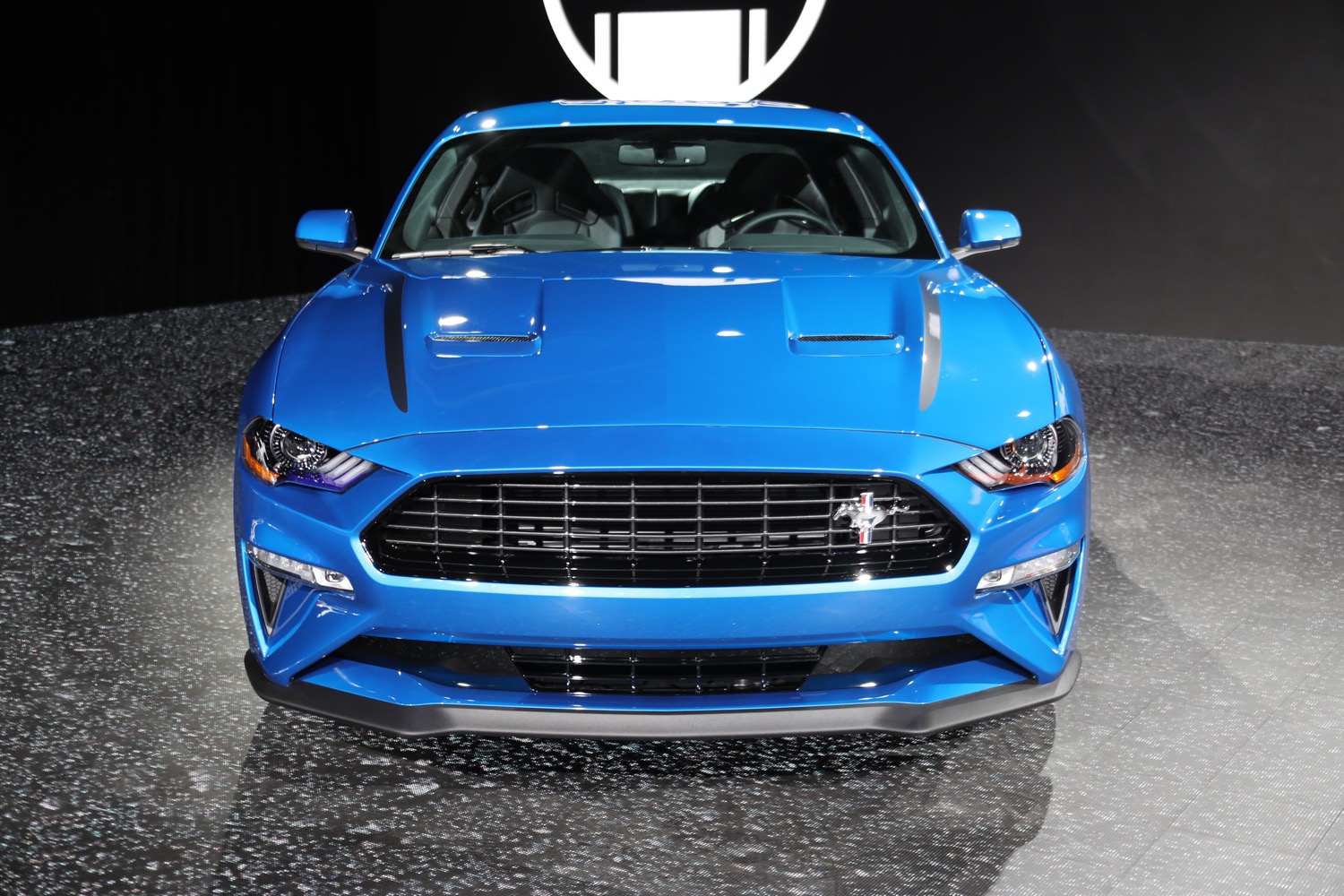 Looking down the side of the car, the special 2.3L High Performance badges on the front fender are seen, along with the body line that ties the styling of the 2020 Mustang to the styling of past cars in the series. The orange car has split five-spoke wheels in black, while the blue car has the same split five-spoke design, but with a machined face and black pockets.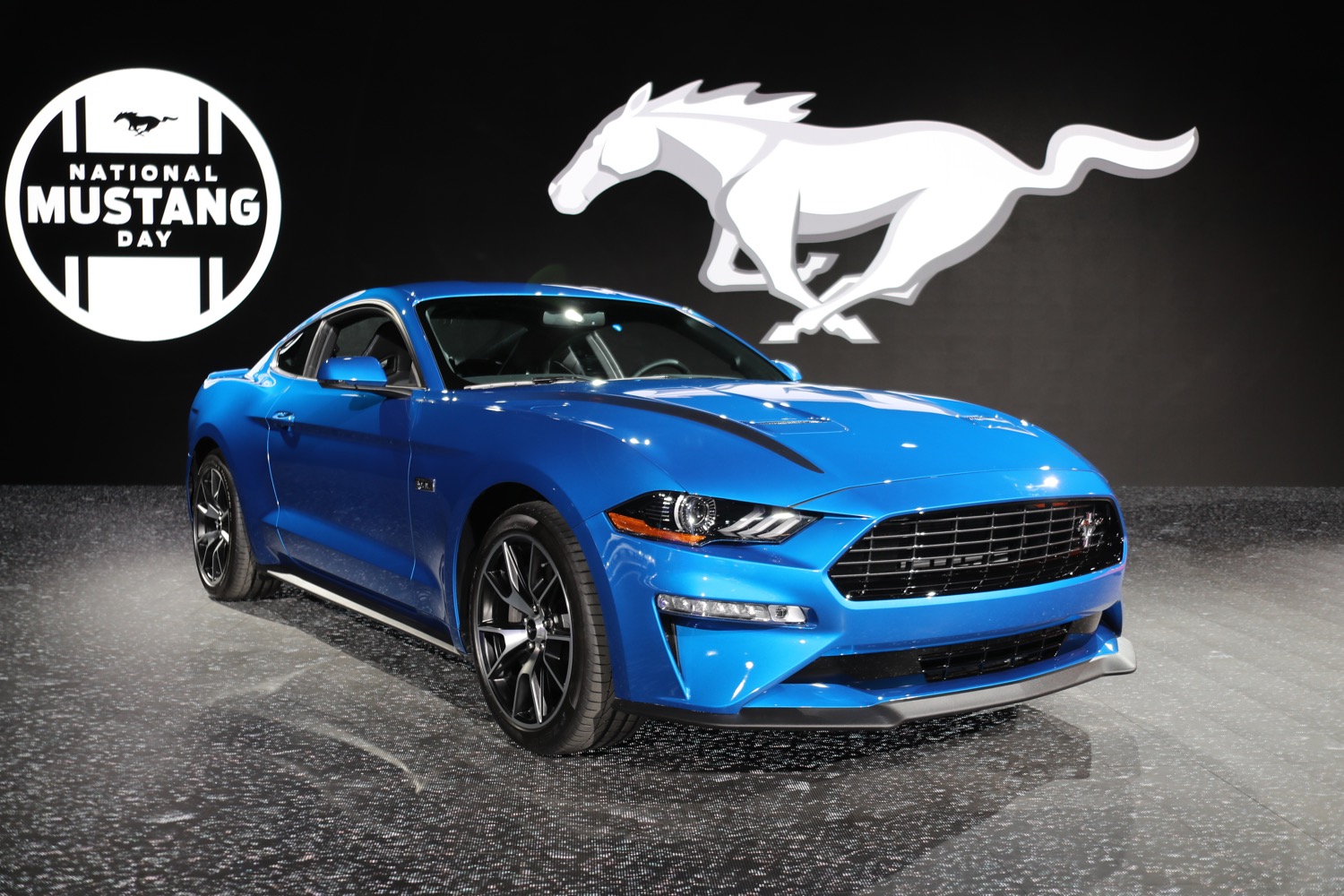 Heading to the rear of the car, the raked rear glass with the Euro-style clear third brake light gives excellent visibility out of the car. The glass slopes down to meet the rear trunk area of the car with the small lip spoiler on the edge of the trunk lid. The blue car has a body color lip spoiler, while the orange car has a black lip spoiler.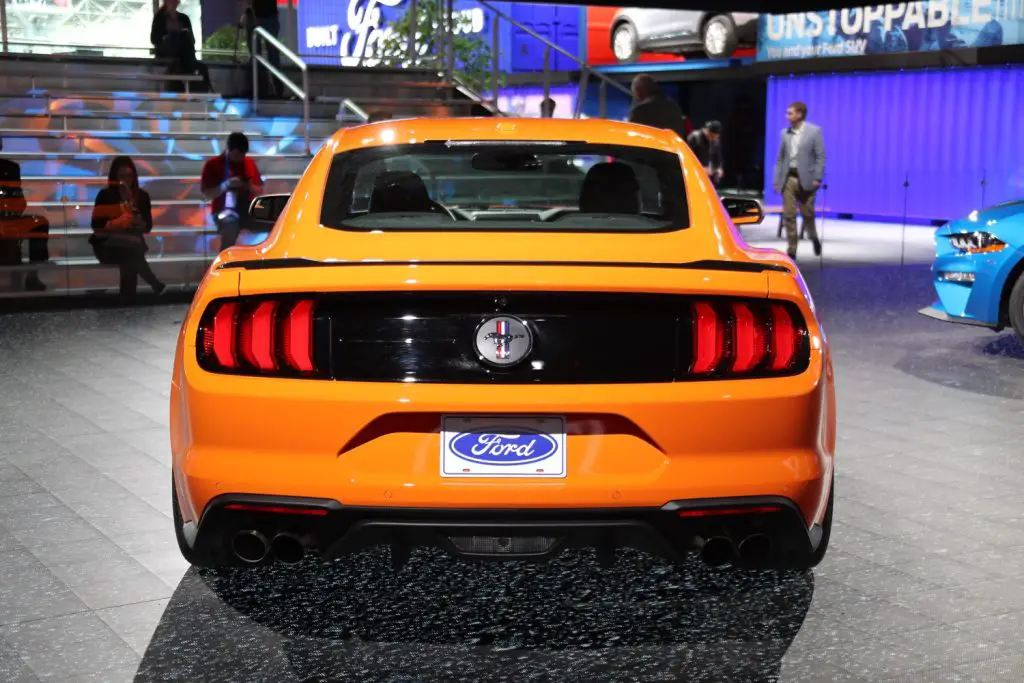 The traditional three-panel Mustang taillights sit on the edges of the bumper with a black insert connecting them and a faux rear gas cap with the running pony emblem in the middle. The license plate frame is inside a trapezoidal, body-color opening that is reminiscent of the front grille. Both cars have the same quad tailpipe tips exiting from the corners of the lower rear diffuser done up in black with red reflectors on its top edges.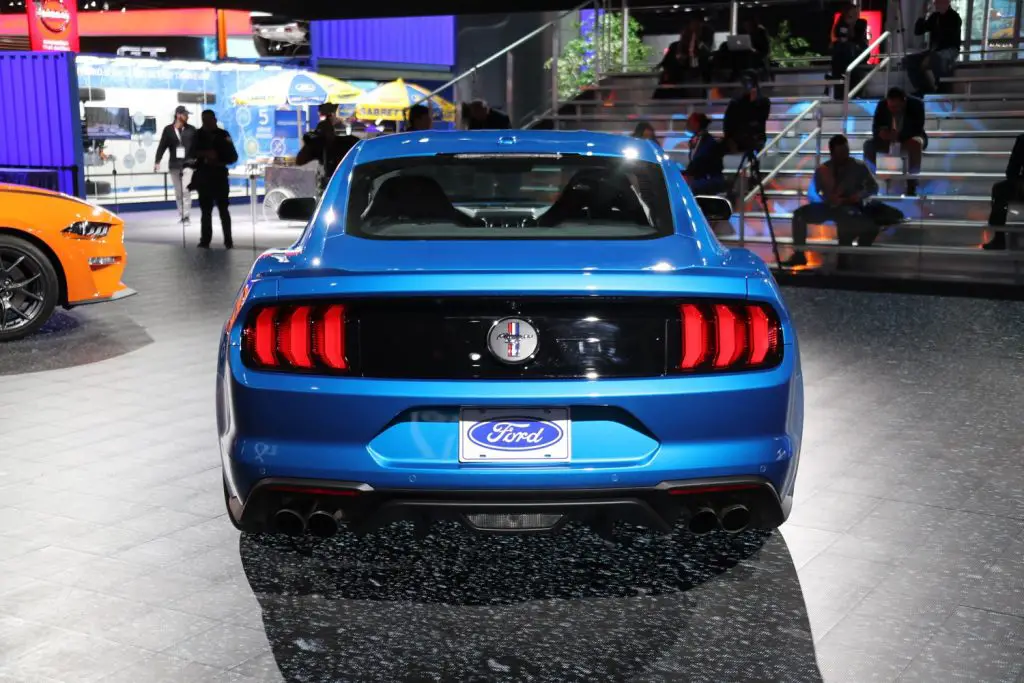 Subscribe to Ford Authority for more Mustang news and around-the-clock Ford news coverage.