Ford purchased Michigan Central Station last summer and set about the work required to plan for the massive refurbishment of the building. The long-derelict landmark had already cost Ford more than expected by September 2018 when the cost had ballooned to $90 million. Ford has big plans for the building once it is complete with businesses such as restaurants, bars, and shops inside aiming to make it into a place where people want to hang out.
Ford has also said that other automakers are invited to office out of the building. As construction work on revitalizing Michigan Central Station is underway, it has been discovered that the building already has tenants. Ironically, the first tenants in Ford's Michigan Central Station were a pair of raptors. Ford construction workers found that a pair of adult red-tailed hawks had built a nest on a window ledge on the 12th story of the building.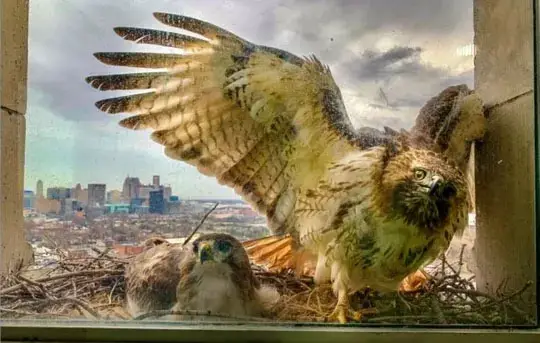 The hawks had a pair of eggs in the nest that hatched in April. Ford spokeswoman Christina Twelftree said that a cover was put on the window and that the area had been cleared away to make sure that workers don't bother the birds too much. Red-tailed hawks are, according to the National Audubon Society, the most widespread and familiar large hawk in North America.
The birds are said to be highly adaptable to different living spaces and will nest in forests, fields, deserts, and cities. They like to live in elevated areas so they can look down on prey like small mammals and reptiles. Ford did bring in a bird rehabilitator and hawk expert called David Hogan to check that it was doing the right things for the raptors nesting at Michigan Central Station. The Ford spokeswoman noted that the juvenile hawks are expected to take their first flight soon and the family will leave the nest afterward.
Subscribe to Ford Authority for around-the-clock Ford news coverage.
Source: Detroit Free Press