The 1965 Mustang you see here has done just about everything with Paul Faessler. The car was an average 1965 Mustang shuttling people back and forth to college. When the carpool duties were over, the original owner of the car started a rebuild using a 351 Windsor and a 4-speed transmission along with an improved suspension. That original owner lost interest in the project when rust was found in the rear frame rails.
Faessler purchased the 1965 Mustang in 1982 and went about a 37-year project of perfecting the car. Before being upgraded to road racing spec seen in the images, the car was a drag racing machine. Faessler says that after drag racing for a couple of years, the car was restored and continued to pull drag race and car show duty until 1987. At that time one of his customers invited him to do a road course, and he was hooked on sports car racing.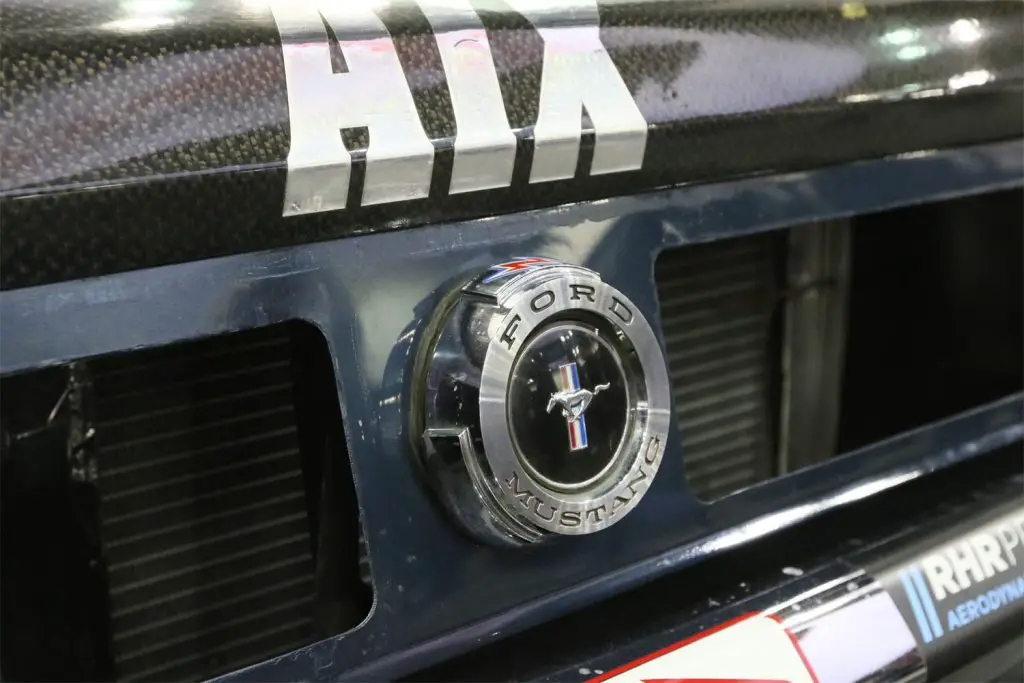 By the mid-90s the car had a naturally-aspirated 408 cubic inch aluminum block and a cage around the original white upholstery. The car eventually transitioned to racing NASA American Iron Extreme class. It's now a gutted and fully built racing car and has a single mid-mounted turbo and a short-long-arm suspension he designed for the car. That setup won him his first NASA AIX National Championship. Faessler says that the car has won multiple car shows, was the fastest DOT tire drag car at a Fun Ford weekend in 1987, and has three NASA national championships to its credit.
The engine under the hood is a 427 Windsor with a 9.5:1 compression ratio and a dry sump oiling system. The internals include a K1 forged steel crankshaft and connecting rods, custom Wiseco pistons, Trick Flow Twisted Wedge R cylinder heads, and an Edelbrock Windsor Jr intake. The turbo is a single TiAL WR400 76mm unit with a matching wastegate and blow-off valve that makes between 7 and 10 psi boost. The car also has an air-to-water intercooler with 3-inch piping. All the engine work adds up to between 700 and 800 horsepower and 650 foot-pounds of torque at the rear wheels. Another cool classic Mustang has surfaced recently, it is a 1968 Shelby GT500 KR that is for sale.
Subscribe to Ford Authority for more Mustang news and around-the-clock Ford news coverage.
Source: Turnology