There has been a lot of talk amongst truck fans about where to spend the money when it's time to buy a new truck. The Ford F-150 and the Ford Ranger have overlap in price and capability. We recently saw that the 2019 Ford Ranger is no match for a stock F-150 EcoBoost in a drag race. You can imagine the slaying that a stock F-150 Raptor would put on the 2019 Ranger.
The guys at Hennessey unveiled the VelociRaptor Ranger last month and the little truck is quite the beast. To see how the mods made to the VelociRaptor Ranger impact performance, the Hennessey crew set up a drag race. In the video, you will see a stock 2019 Ford Raptor square off against the Hennessey VelociRaptor Ranger in a race from 0-100 mph.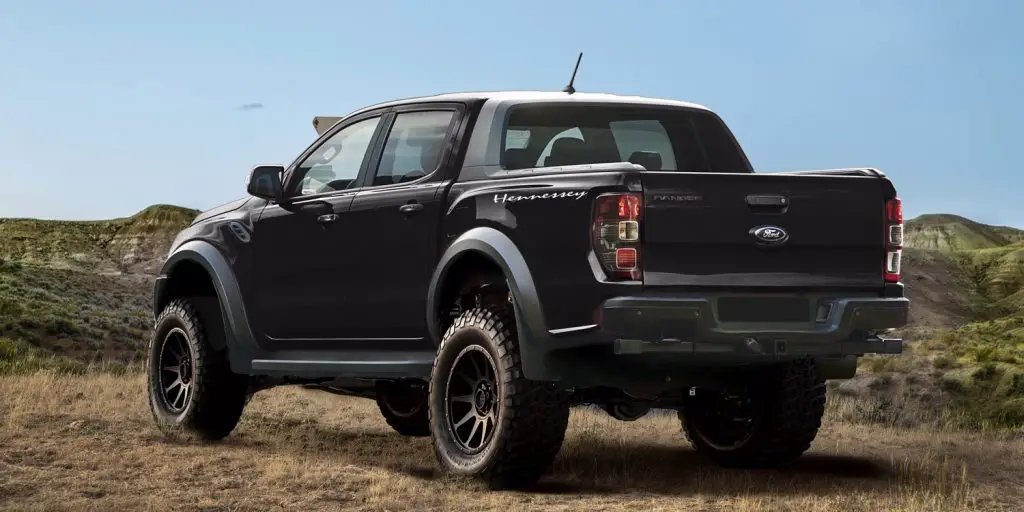 The stock F-150 Raptor has the most potent EcoBoost V6 that Ford uses in its truck line. The high-output 3.5-liter EcoBoost V6 makes 450 horsepower and 510 pound-feet of torque. The massaged VelociRaptor Ranger makes 350 horsepower and 385 pound-feet of torque. While the VelociRaptor offers more torque and horsepower than the stock Ford Ranger at 270 horsepower and 310 pound-feet of torque, it's still way down compared to the 2019 F-150 Raptor.
Despite giving up 100 horsepower to the F-150 Raptor, the Hennessey VelociRaptor Ranger jumps out to the early lead and maintains the lead for the entire race. The conversion also includes new wheels, tires, and bumpers among other tidbits to make the VelociRaptor Ranger better off-road. Hennessey plans to build only 500 VelociRaptor Ranger trucks for the 2019 model year for $64,950 complete. If you own the Ranger already, you can get the conversion for $19,950. Both the complete truck and the conversion carry a 3-year or 36,000-mile warranty.
Subscribe to Ford Authority for more Ford Ranger news and around-the-clock Ford news coverage.