Last year, Kevin Harvick's sponsor Busch Beer put out a tweet promising to run a "millennial" inspired paint scheme on the 43-year-old NASCAR driver's car if he didn't win the championship at Homestead-Miami.
As you probably already know, last year's NASCAR Cup Series championship was won by Joey Logano, which meant it was time for Busch Beer to get working on the "lit" millennial paint scheme for Harvick.
Old guys will rule again at Homestead. In fact, Busch is so confident that Harvick will win that if he doesn't, we'll give millennials the v lit paint scheme they always wanted in a race next year. Don't @ us. pic.twitter.com/uZ63oc8wa2

— Busch Beer (@BuschBeer) November 15, 2018
Now the beer company has unveiled the race-ready paint scheme, which the longtime Cup Series driver will run in the NASCAR All-Star Race at Charlotte Motor Speedway on May 18th.
The paint scheme features a light "millennial pink" body, along with an array of "emojis and new-age slang," including phrases like "Busch is Bae" and "#SQUADGOALS." NASCAR and Busch Beer fans were able to vote for what should appear on the car back in March of this year through the brand's social media pages.
#MillennialCar is finally here IRL. Who else is ready for @KevinHarvick and the #MillennialCar to slay at the #AllStarRace? pic.twitter.com/3hqpFbM6KY

— Busch Beer (@BuschBeer) May 7, 2019
Harvick said it was no fun losing the bet last year, but admitted he was having fun with the humorous Busch promotion.
"I think the car and the program are a lot of fun," he said. "It sucks losing a bet, but I'm willing to live up to my end of the deal. Through the process of the car design, I've learned a lot of new words, none of which make sense to me, nor could I ever use in the right context. However, it's the All-Star race, and we have a great partner in Busch, who always like to have fun and keep things fresh. In the end, I want to win. Whether I'm driving a millennial pink car, a purple car or my normal car, it's all about winning."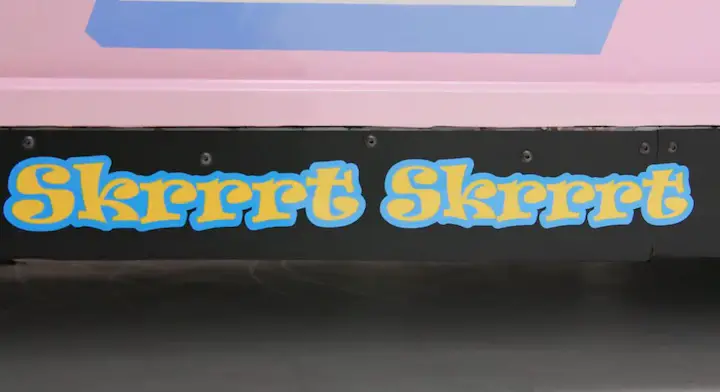 Harvick and his Stewart-Haas Racing crew will be looking to yeet the No. 4 Ford Mustang into victory lane when the green flag flies for the 2019 NASCAR All-Star Race later this month.