Back in the 1980s and early 1990s, speeders all around the country knew that if one of the Ford Mustang SSP patrol cars made a u-turn to come after you, you just pulled over. There was no getting away from those pursuit cars. The Nebraska State Patrol still has a working 1993 Ford Mustang SSP patrol car.
According to the Nebraska State Patrol, a real trooper drives the car, the car is actually in service, and the 5.0-liter 302 cubic inch V8-powered beast is a 5-speed manual car. Ford built the iconic Mustang SSP cars from 1982 through 1993 after a successful test program run with the California Highway Patrol that aimed to make a successful police pursuit vehicle.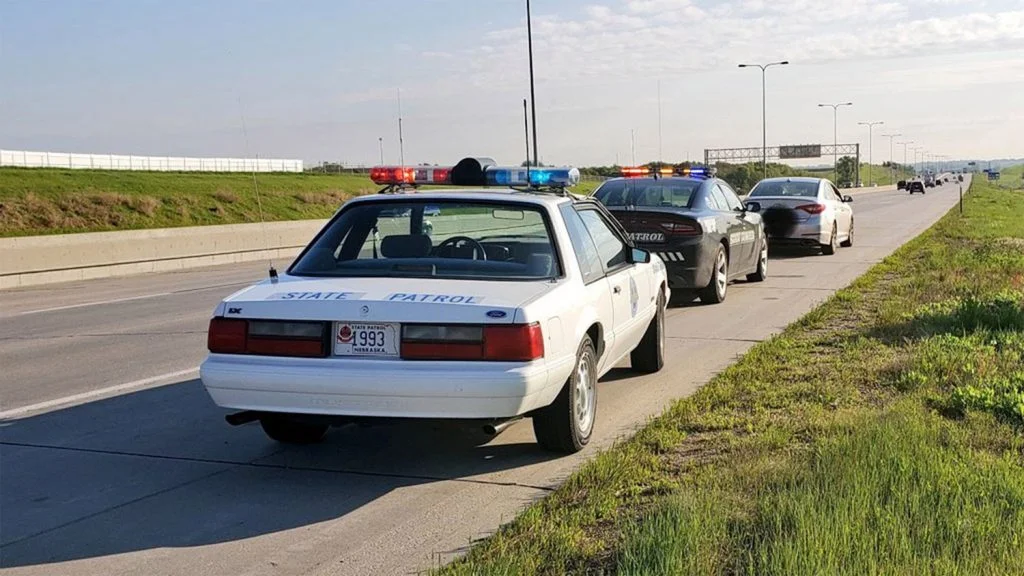 The 1993 Ford Mustang SSP Nebraska still operates was, just like all other years of the SSP or Special Service Package cars, based on the 5.0-liter Mustang with a few tweaks. The SSP units had oil and transmission coolers, heavy-duty alternators, strengthened floor pans, and a top speed over 140 mph. The 1993 Ford Mustang SSP Nebraska still operates has a Ford 8.8-inch rear end, which was standard from 1989 on, along with more robust suspension components.
The 1993 Ford Mustang SSP was rated at 225 horsepower and 275 pound-feet of torque, just as the ordinary civilian 5.0 Fox body Mustang of the era was rated. Certainly not a lot of power by today's standards. In its day that was serious power and enough to keep the speeders and bad guys from getting away.
Ford built the Mustang SSP for 11-years and sold around 15,000 units. A lucky few survived until the highway patrol, and police fleets around the country phased the cars out. Many are in private hands today. Ford stopped building the SSP Mustangs when the SN95 body style debuted in 1994. Fox body fans will want to check out the 1993 Cobra R that sold at auction becoming the most expensive Fox body ever sold.
Subscribe to Ford Authority for more Mustang news and around-the-clock Ford news coverage.
Source: The Drive