When it comes to Ford, there is one iconic car that doesn't need a Ford logo for people to know undoubtedly it's a Ford. That iconic vehicle is the Mustang. Rumors have been teasing us for a while now about a four-door version of the Mustang, or an electric version to fight Tesla in the works. We've also heard that an SUV is coming that will have Mustang-inspired styling and "go like hell."
A pair of renderings have surfaced out of Russia that show what a Mustang SUV might look like. Anyone wanting something sporty that can haul people might think a Mustang SUV sounds good. The artist who made these renderings did a good job of using the current Mustang's front and rear ends and the iconic hips in the rear to make something that looks like Ford might build.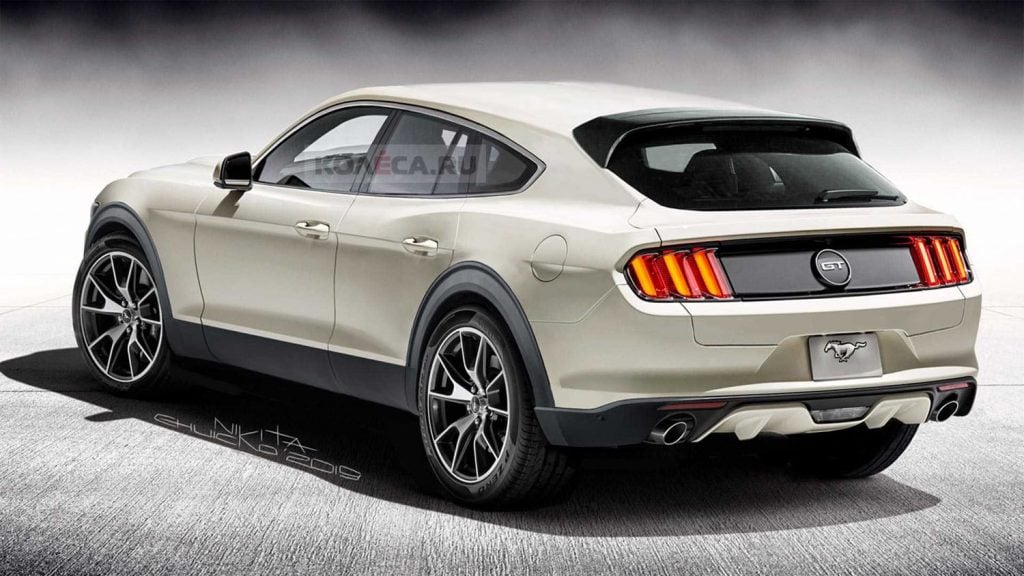 The renderings look to some eyes more like a lifted, four-door wagon like the Subaru Outback or VW Golf Alltrack. Sadly, the Mustang SUV is expected only with an electric drivetrain. Thoughts of an SUV with Mustang looks, and a 460 horsepower 5.0-liter V8 are in vain.
We don't know what Ford will call the Mustang-inspired SUV, but we do know it won't be called the Mach 1. That was the name first floated for the Mustang SUV, and Mustang fans did not like that idea forcing Ford to back off. Reports claim that Ford will offer two electric drivetrain variants in its Mustang-inspired SUV.
One powertrain will offer over 300 miles of driving range with the other offering as much as 373 miles. Rumors also suggest there will be a high-performance version of the Mustang SUV. Details on the new electric SUV with Mustang style are expected in November with an on-sale date said to be sometime in 2020 as a 2021 model.
Subscribe to Ford Authority for more Mustang news and around-the-clock Ford news coverage.
Source: Motor1