It's hard to find clean, classic trucks let alone find a clean, classic truck with low original miles. The 1964 Ford F-100 4WD for sale in Texas is one of the clean and low mile trucks that are so hard to find. Ford didn't make many 1964 Ford F-100 4WD trucks, fewer than 3,000 are said to have been made.
This 1964 Ford F-100 4WD has what is thought to be an original 38,548 miles on the odometer according to the last owner. Power is via a 292 cubic inch V8 with a four-speed manual transmission. The condition of the truck on the outside and inside would seem to support the claim of such low original miles. The truck is in light blue with white wheels, bumper, and two-tone blue and white interior.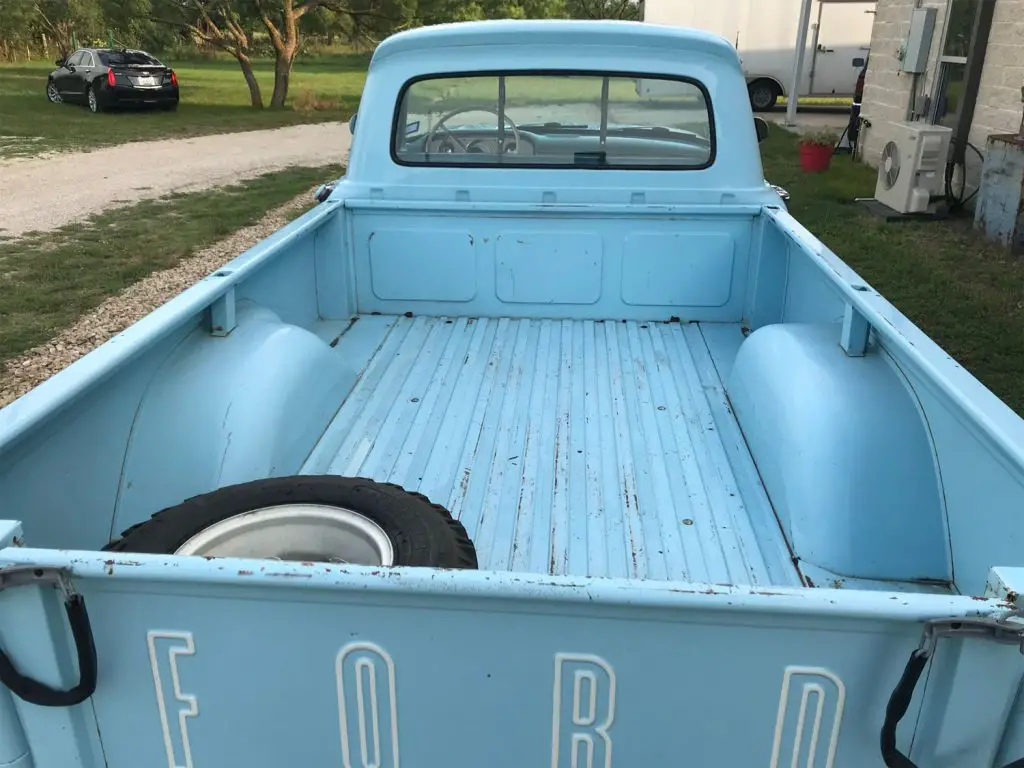 Everything looks fantastic with the seats showing no tears or holes, the door cards appear to be pristine, and all the glass is said to close up tight. The original user guide for the transfer case is still clear and legible on the sun visor of the truck.
One of the most interesting things about this particular truck is that it has some hold outs from its days as a family vehicle that are still hanging around. The front bumper has an assortment of campaign permit stickers ranging from the early to late 70s. Amazingly, some of those stickers are over four decades old, and they still look new.
One of the door jambs still has a sticker on it from an in-period service. The paint is in excellent condition, but the truck does have some wear marks from its over five decades of service. Notably, the underhood area isn't perfect, and the door sills are scuffed. This truck appears to be a rare and low mileage survivor with no restoration ever attempted. The asking price is $27,500. We talked about a resto-modded 1961 F-100 with a Mustang V8 not long ago.
Subscribe to Ford Authority for more Ford classic news and around-the-clock Ford news coverage.
Source: Motorious