Tesla CEO Elon Musk is talking up the electric pickup that the company plans to build down the road recently claiming that it will be better than the Ford F-150. Tesla makes only full-electric vehicles, and it's not alone in its aspirations of making an electric truck. Ford plans to build an electric truck, it has made that intention clear, but it hasn't given any indication of when that electric truck might land.
Spy shots have shown an electric Ford F-150 in testing in the past. We expect to see a plug-in hybrid Ford F-150 before the fully electric truck launches. Elon Musk has stated that the Tesla electric truck will sell for $49,000 or less. Musk has a long history of making promises that the company isn't always able to make good on, meaning that many take what he says with a healthy dose of salt.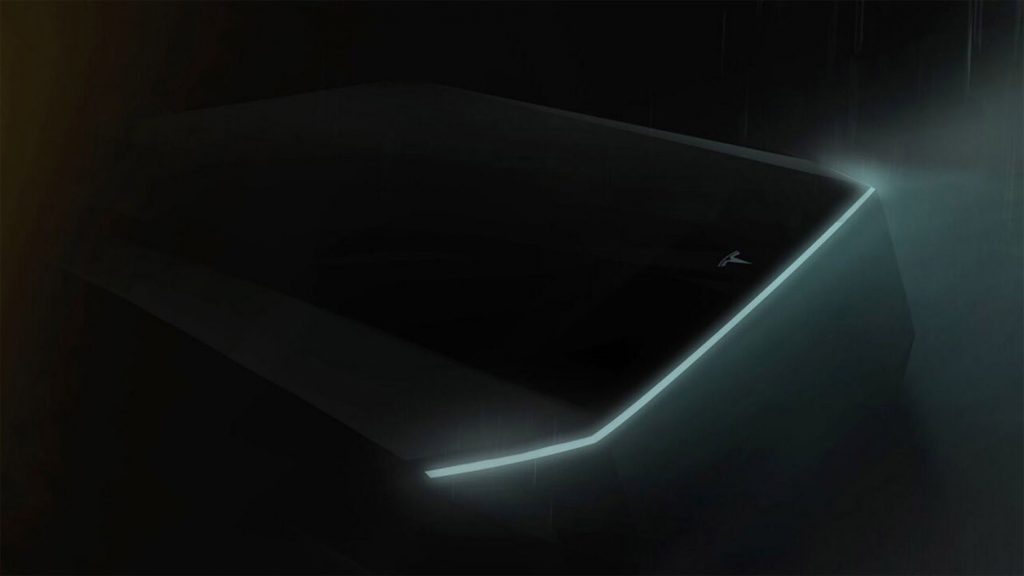 Pickup buyers are very big on styling and tend to prefer traditional designs as the Ford F-150 offers. Musk said that the Tesla truck has styling that isn't for everyone noting that the truck "just can't be unaffordable." Musk says that the Tesla pickup "won't look like a normal truck. It's going to look pretty sci-fi." Musk has claimed that the pickup looks like something out of the "Blade Runner" films. All we have to go on for the looks of the Tesla truck is a teaser image that has been floated by Tesla and confirmed by Musk to be the front end of the truck (seen above).
Musk has made bold promises for the Tesla pickup stating that it will be a "better truck" than the Ford F-150 in terms of truck-like functionality. Presumably, he means towing and payload, but he isn't clear. Musk also claims that it will be "a better sports car than a [Porsche] 911." The assumption with that claim is 0-60 mph time where EVs shine, as Tesla's Model S has proven again and again. Musk has claimed in the past the Tesla pickup would feature all-wheel-drive, self-leveling suspension, and a driving range of 400-500 miles per charge. Musk also claimed previously the truck would have a towing capability of 300,000 pounds (seriously).
Subscribe to Ford Authority for more F-150 news and around-the-clock Ford news coverage.
Source: Fox News