Car crashes can be severe for the people in the car and pedestrians nearby. No one was hurt on the sidewalk or in the business when a man driving a 2005 Ford Mustang drove his car through the wall, into the showroom of the store. The 19-year-old driver of the Ford Mustang drove through a low brick wall and plate glass front window of a business called Rent King.
Rent King appears to be one of the furniture rental companies that are common around the country. The accident happened in Haines City just before 5 pm local time on Monday of this week. The driver of the 2005 Ford Mustang was Cesar Mendoza Tapia Jr.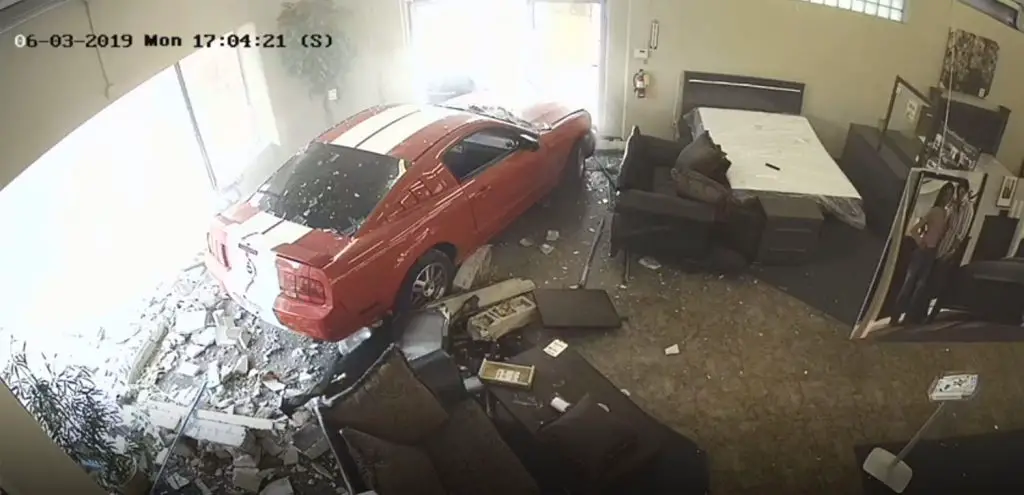 Authorities say that the man turned left onto Hinson Avenue when he lost control of his car and crashed through the window of the building. Security cameras at the business caught the entire incident on film. According to the owner of the store, the crash caused over $25,000 in damages.
Despite that no one was injured in the crash, Tapia is facing several charges including reckless driving and driving without a valid license. Tapia was allegedly doing well over the posted 30 mph speed limit. We can't tell if the car is a Mustang GT or not, but it appears to have come through the accident without huge amounts of damage, though we can't see the front end.
It appears from what we can see that the hood of the Mustang is buckled a bit. Tapia was arrested at the scene and taken to jail. There is no indication that drugs or alcohol played a role in the crash. There is also no mention of street racing being a factor. The video of the accident isn't embeddable, watch it here. We talked about another 2005 Mustang recently that didn't create its own drive-thru window.
Subscribe to Ford Authority for more Mustang news and around-the-clock Ford news coverage.
Source: Mysuncoast