Before the crossover, before the SUV, and before the hatchback, there was the Ford Model A Station Wagon. Ford first introduced the Model A Station Wagon – also known as the "Woodie" – in 1929 as a follow-up to the standard Model A, which emerged in 1927 as a replacement for the legendarily popular Ford Model T.
Offering a huge number of seating arrangements and cabin configurations, the Ford Model A Station Wagon could accommodate upwards of eight passengers plus their luggage thanks to features like a folding rear deck and multiple seating configurations. This made it particularly well-suited for ferrying around individuals and carrying loads of gear in the rear.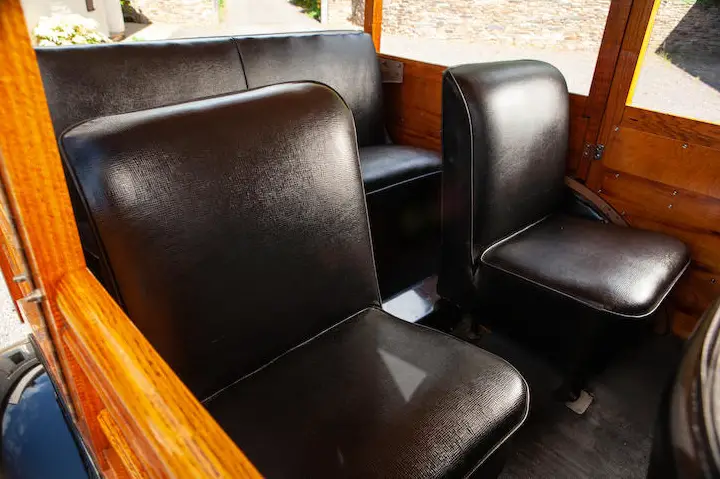 True to form, the Ford Model A Station Wagon was offered in just one color – Manila Brown with black trim. While a firm called Murray was designated as the primary Ford coachbuilder at the time, the Model A was also bodied by a select number of alternative companies. This particular example comes from Hercules, which makes it exceedingly rare.
Model A specialist Ladd Eaton of Melville Village, New Hampshire is responsible for the vehicle's mechanical restoration, which included minor work to the brakes, electrical system, and carburetor. Meanwhile, the exterior was restored by Charles Gath, whose primary occupation is the restoration of wooden boats. However, the results speak for themselves. Gath used a specialty Epifanes spar varnish to return a handsome golden finish to the Woodie's exterior.
This particular Ford Model A Station Wagon was originally purchased at Bonhams' Amelia Island Sale in 2015, after which it spent most of its time on short jaunts around the owner's farm. Now it heads back to the block as Lot 310 at the Bonhams' Goodwood Festival of Speed Sale, set to commence July 5th. Estimated value is between $26,000 and $32,000.
Subscribe to Ford Authority for more Model A news and around-the-clock Ford news coverage.
Source: Bonhams