Brian Devilbiss is once again setting records, this time with a new 2019 Ford Mustang GT equipped with Ford's new 10-speed automatic transmission. Previously, Devilbiss made the scene in the Street Outlaw/x275 class with his 2013 Shelby Mustang GT500 built by Evolution Performance, grabbing the title of first into the nines and eights with a factory six-speed manual transmission, as well as the first to hit sevens and sixes with the car in full Street Outlaw/x275 guise. Now, Devilbiss is making waves with a new 2019 Ford Mustang drag racer, once again with help from Evolution Performance.
"We wanted to build an extremely fast street car using parts your average customer could obtain," said Evolution Performance's Fred Cook in an interview with Dragzine. The result you see here was completed in less than seven days, and manages an impressive 8.72 ET at 158 mph. As far as we know, this makes this mean green machine the quickest supercharged third-generation Coyote engine out there.
Of course, in the world of drag racing, the term "stock engine" means something a bit different. To make that 8.72 ET a reality, Devilbiss first mounted a new Edelbrock 2650 supercharger. Interestingly, Devilbiss bought the blower using a gift certificate he won at the Eaton TVS Supercharger Throwdown at the NMRA/NMCA All-Star Nationals in April.
Supporting mods for the Ford Mustang drag racer include a long list of go-faster parts, including a 112 mm throttle body and a unique 10-rib belt system courtesy of American Racing Solutions. There's also an air-to-water intercooler to keep the charge nice and dense.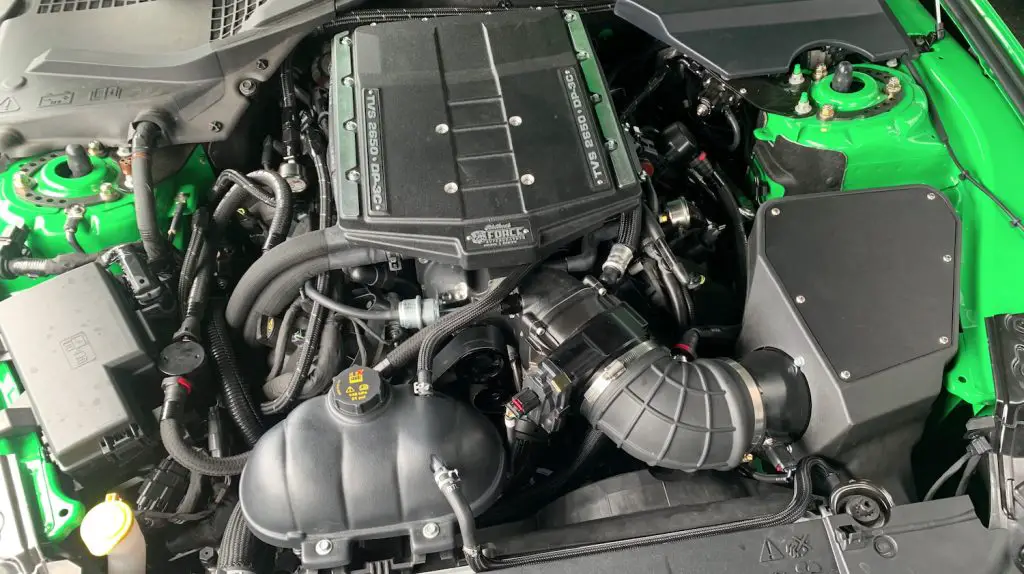 The Ford Mustang drag racer runs E85R ethanol-based fuel through Injector Dynamics ID1300 injectors, which is sparked by Brisk Racing RR12S plugs. Weld Racing S70 wheels and Mickey Thompson tires put the power to the ground.
Understandably, the Ford 10-speed automatic transmission also received a number of upgrades, including McLeod 10R90 clutches and steel plates, plus a 3.5-inch aluminum driveshaft courtesy of G-Force Engineering and a 245 mm converter from Circle D Specialities.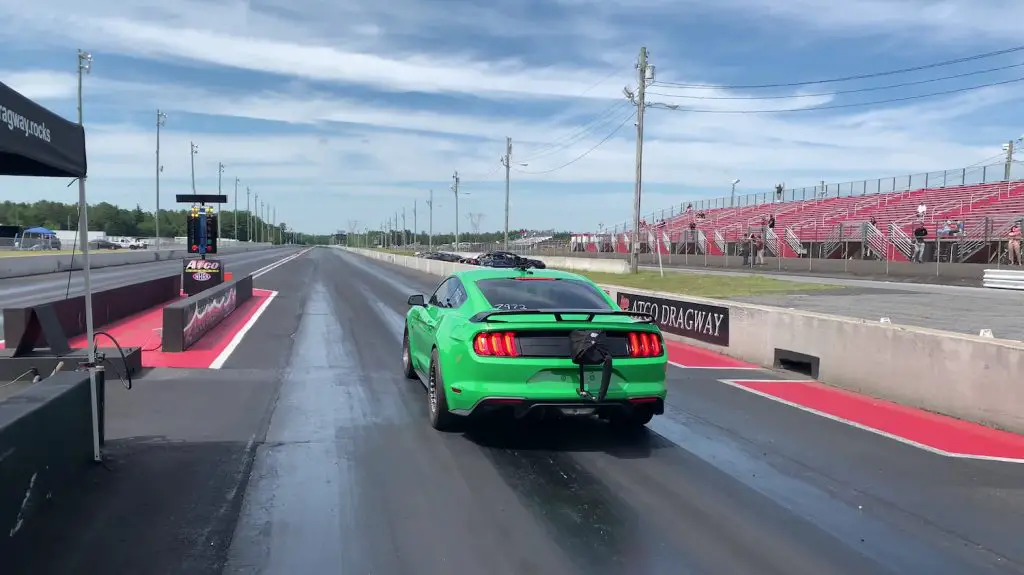 To help it get off the line, the Ford Mustang drag racer actually launches in second gear, with Jon Lund Jr. from Lund Racing responsible for the unique tune. Apparently, first gear had the wrong ratio to pair with the new Roots-style supercharger.
With a sub-nine-second ET, not to mention an impressive 1.28 60-foot time, this 'Stang is a real beast. And that's on top of the full 3,850-pound weight with the driver onboard.
Up next, the car heads to the 19th Annual NMRA Ford Motorsport Nationals at Maple Grove Raceway, slated to take place June 28th through the 30th. There, the car will run in the Modified Street Class, after which it'll receive additional go-faster stuff, with chassis upgrades and a new sleeved motor from MP Racing Engines.
Subscribe to Ford Authority for more Mustang news and around-the-clock Ford news coverage.
Source: Dragzine