We already saw the upcoming baby Ford Bronco last year thanks to a leaked presentation captured during a dealer meeting, which Ford then requested we remove. But now, we have our first look at the integrated prototype for the ruggedized future Ford crossover, which we believe will be called Ford Bronco Scout or Ford Adventurer.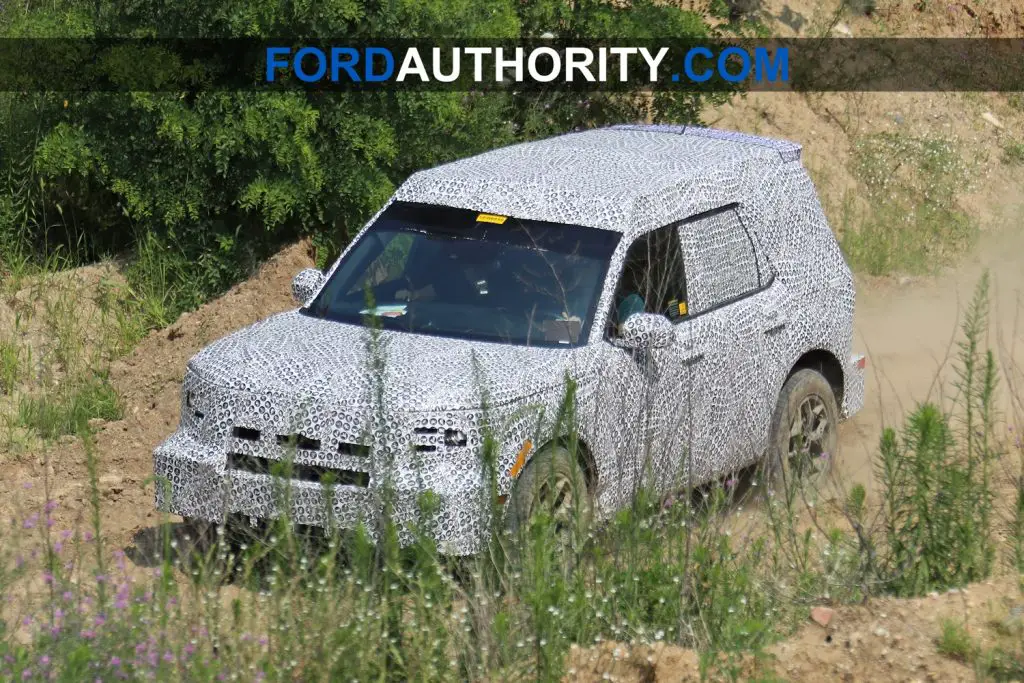 What we see is a relatively small crossover utility vehicle undergoing testing on an off-road trail. But unlike the all-new 2020 Ford Escape and its car-like design, this baby Ford Bronco wears a rather rugged shape characterized by sharp, upright edges.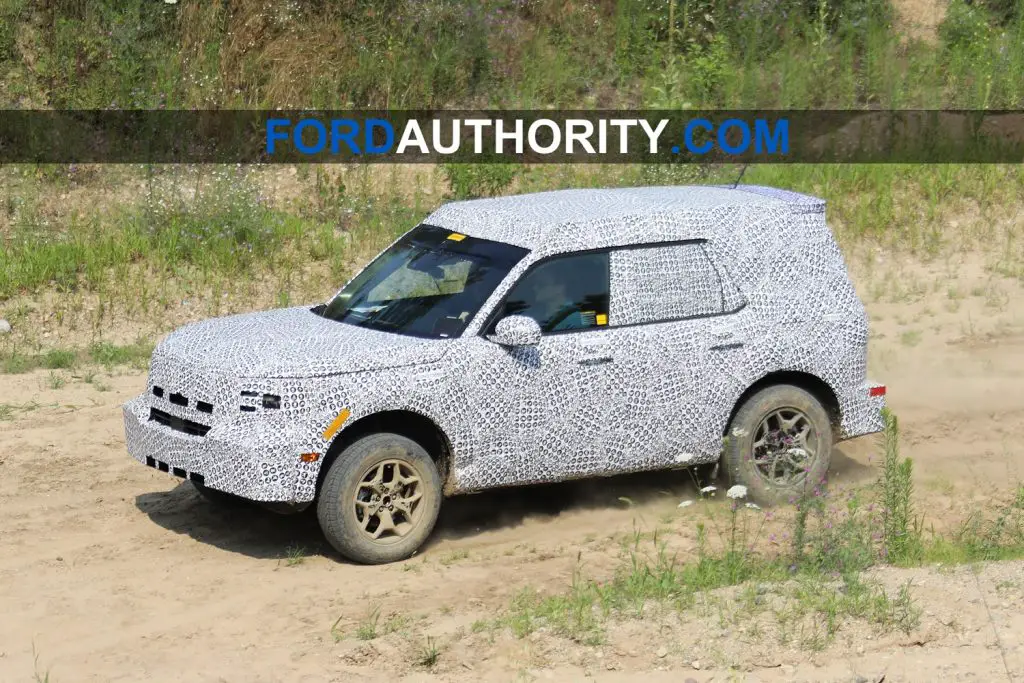 At the front, an upright fascia and windshield join with a rather horizontal hood and roof that do not have that aerodynamically-friendly "swept back" design. Instead, each of the sections has a transition that's very squared off, rather than rounded.
The front end has a relatively long overhang, though it's clear engineers and designers put in effort to minimize it in order to improve the approach angle. We can also see a hint of those round headlights that were present on the teaser image (below) released by Ford in March of 2018.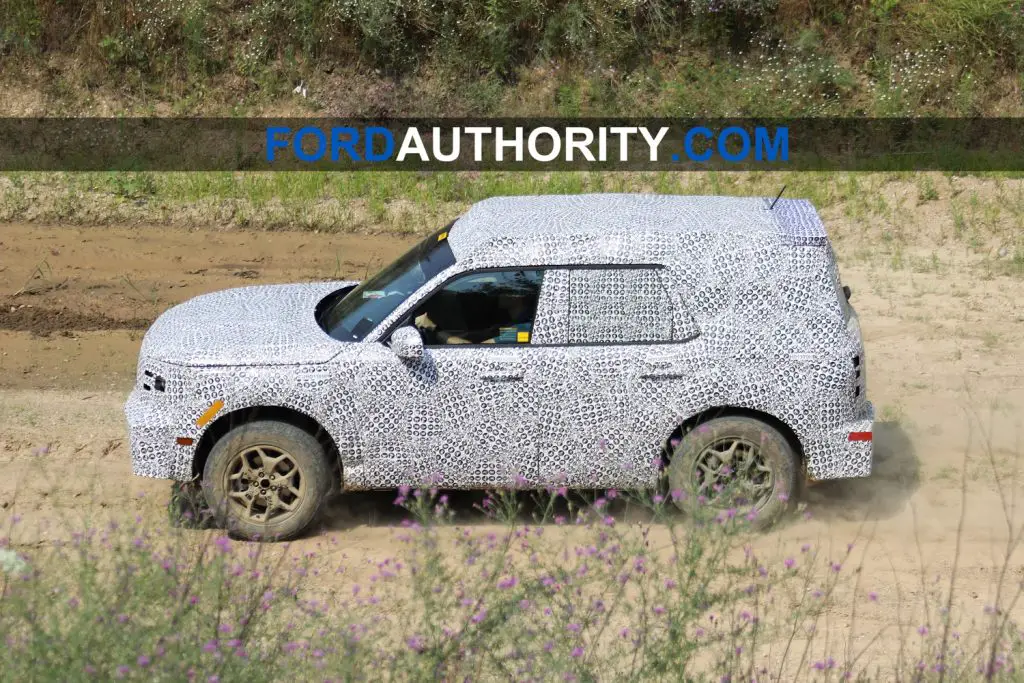 The side also features a rather slab-like profile, though the camouflage makes it difficult to see what's taking place between the C- and D-pillars. There is also an interesting "raised" treatment on the roof. The good news is that there is a decent amount of ground clearance and available space in the wheel well for suspension travel. Both elements hint that the upcoming baby Bronco will have a sufficient amount of off-road capability.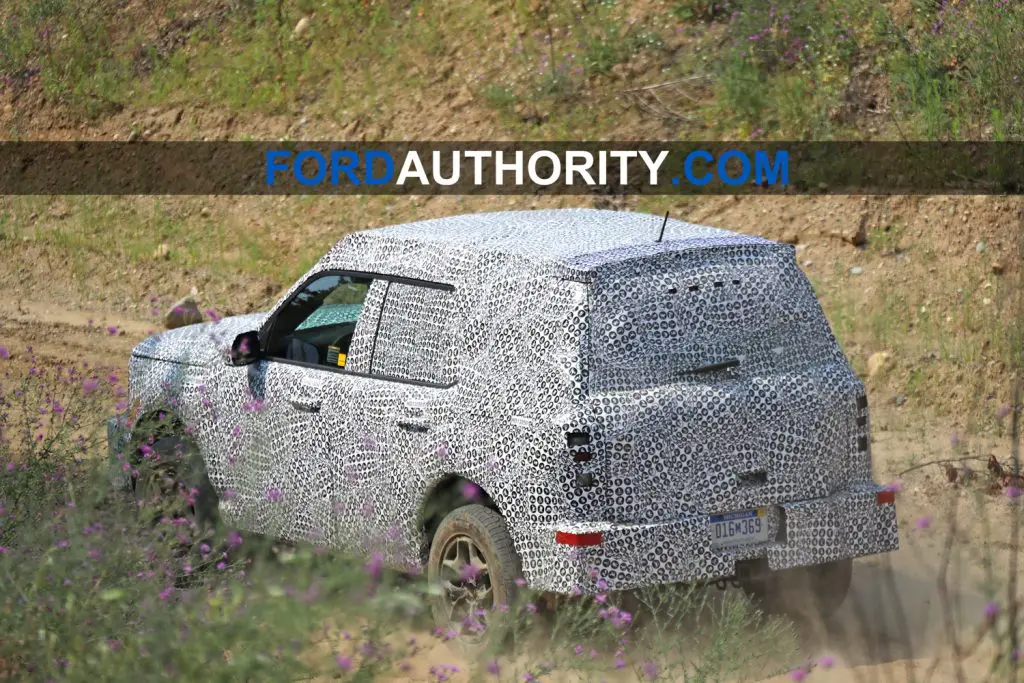 The rear end has some a relatively short overhang, which gives this prototype a funny shape. The angled, boxy shape carries over into the rear end, with an abrupt end to the roofline and a near-vertical drop to the hatch and haunches.
As you look over these photos, do keep in mind that this is a prototype wearing a decent amount of camo, which seems to obfuscate the final design.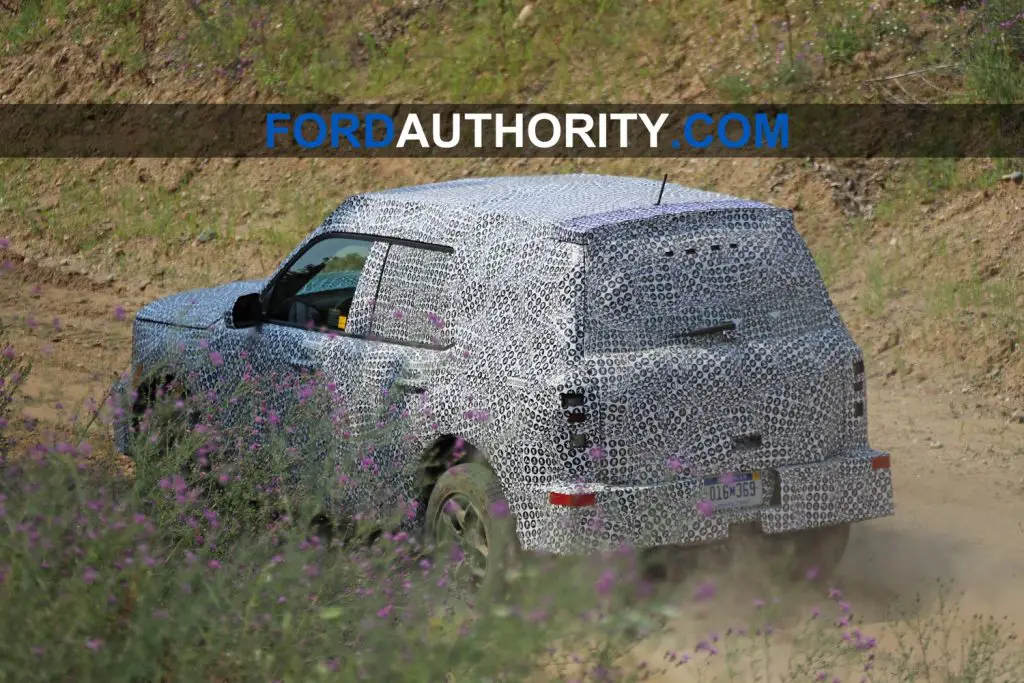 Unlike the "regular" Bronco, which will be based on a body-on-frame platform, this baby Ford Bronco will be based on the same architecture as the 2020 Ford Escape, known as the Ford C2 platform. A lineup of turbocharged four, and possibly three, cylinder engines are expected. A hybrid variant is possible, as is a plug-in hybrid version. Front-wheel-drive will likely be standard, and a customizable all-wheel-drive system will be available.
The vehicle will be part of Ford's two-vehicle strategy for new Bronco, thereby creating a Bronco family. However, there are whispers that this model might use the Adventurer name, instead of the Bronco Scout moniker.
Subscribe to Ford Authority for more Ford Bronco news, baby Bronco news, and around-the-clock Ford news coverage.