For a lot of years, if you bought a Ford F-150 truck, you could get it in one color, or you could get the classic two-tone look. Ford's iconic two-tone look for its F-150 truck painted the center portion of the truck in a different color than the top and bottom of the truck. A Ford dealership out of Cincinnati, Ohio has brought back that classic two-tone truck.
The dealership is called Beechmont Ford, and the truck is the BFP Retro F-150. Rather than painting on the two-tone section in the center of the truck, Beechmont uses satin white vinyl wrap material. The dealership will make you a BFP Retro F-150 on any trim level 2019 Ford F-150, but it recommends using the XLT or Lariat Chrome Package trucks as the base to get the retro looks.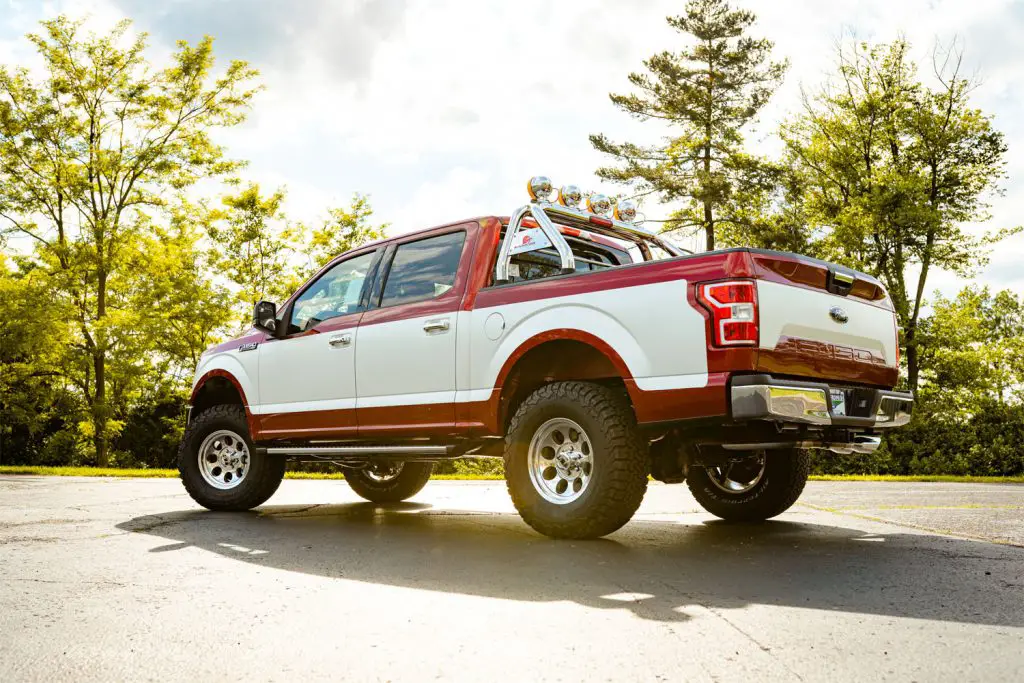 The Retro Package includes a 3.5-inch Ready Lift and polished Mickey Thompson wheels with 35-inch BFG All-terrain K02 tires. Other features include a Black Horse Bed Rack with KC Hi-Lights. To make the truck sound better a Roush Performance Cat-Back exhaust unleashes the roar from the 5.0-liter Coyote V8 under the hood of the truck.
For the truck buyer that wants performance to go with the retro looks of the BFP Retro F-150, the dealership will strap a Roush Performance Supercharger or a Whipple supercharger to the V8. We recently saw the Roush Nightmare F-150 set an acceleration record for production trucks, either of those blowers should push the BFP Retro F-150 to near the same 650 horsepower mark that truck bragged about.
No pricing information on the Retro package truck was offered. Check out this original two-tone 1996 Ford F-150 4×4 that was almost as expensive as a new truck.
Subscribe to Ford Authority for more F-150 news and around-the-clock Ford news coverage.
Source: Beechmont Ford