One of the most customizable cars on the road is the Ford Mustang. There is a vast array of aftermarket parts that allow owners to make their vehicles one-of-a-kind dream cars. Sometimes being able to build a custom Mustang to your idea of a dream car isn't appreciated by the masses, and sometimes the cars are. This particular custom Mustang GT convertible is right on the line between awesome and overkill to our eyes.
The car looks very aggressive and cool, but we aren't fans of the wheels. We do dig the widebody look and the fat fender flares that make it look as if it's ready to hit the road course. The carbon fiber hood isn't our taste, but it looks good with the car.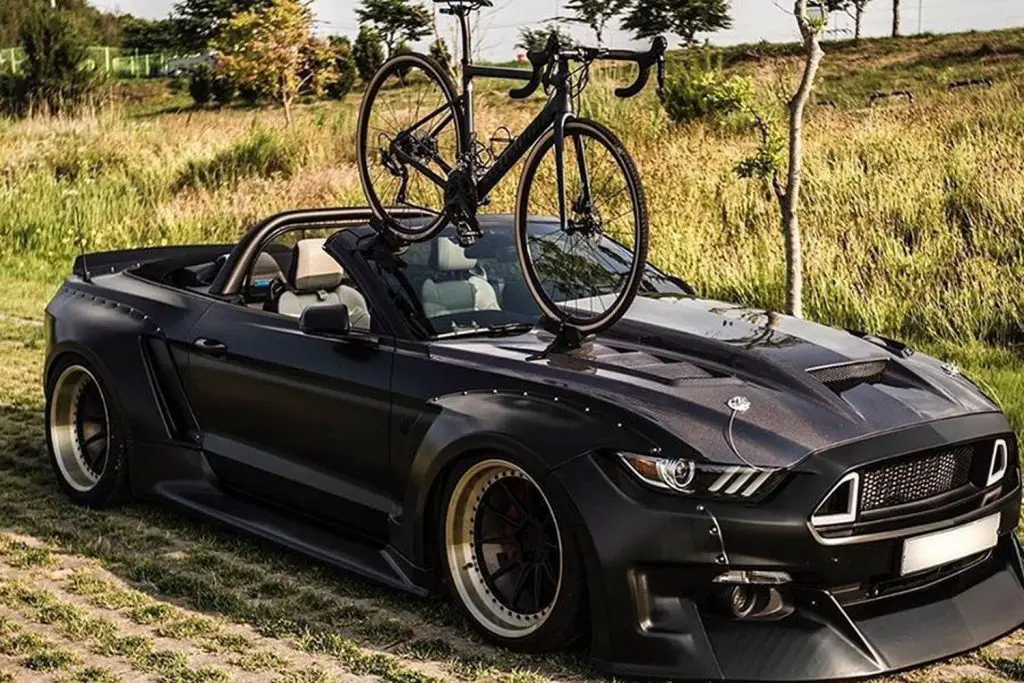 Big flares, a wild hood, and fat wheels aren't the oddest things about this particular custom Mustang. The strangest part about this custom Mustang convertible is that it has a bike rack that is attached to the front of the car. The front as in on the windshield frame and hood. It's right smack in the field of view of the driver, which isn't a good thing if you ask us.
The body kit used on the custom Mustang is a Clinched widebody kit. The carbon fiber hood is thought to be a Vis Carbon unit of some sort, and the grille is out of the RTR catalog. If you are wondering how a custom Mustang that low to the ground survives the rigors of daily driving, it has an AirLife Performance suspension. The car also has a ProCharger supercharger that forces air into the 5.0-liter V8 engine to make 700 horsepower. At least the car has the power to back up its go-fast looks. What do you think? Is this custom Mustang too much, or just enough? If you want to see a Mustang that is undeniably good-looking, check out the 2020 Shelby GT500.
Subscribe to Ford Authority for more Mustang news and around-the-clock Ford news coverage.
Source: Formacar