Earlier this month we talked about an air suspension system for the 2019 Ford Ranger from Load Lifter that helped to balance loads and improve towing on the mid-size truck. The company is back with new Ford F-150 air suspension systems. Air Lift offers several Ford F-150 air suspension systems, including the new LoadLifter 5000, LoadLifter 5000 Ultimate, and LoadLifter 5000 Ultimate Plus.
All of the Ford F-150 air suspension systems have a new design and improved ride comfort. All three kits support up to 5,000 pounds of load-leveling capability. The load-leveling system is meant to eliminate the issues with towing and hauling heavy trailers and items.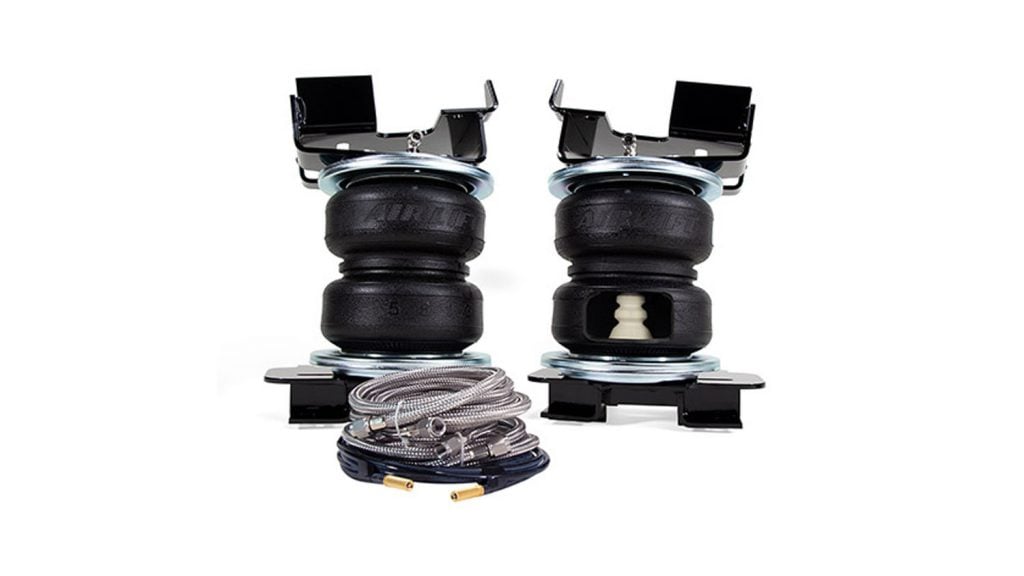 The suspension system works to eliminate squat, trailer sway, and poor headlight aim. The LoadLifter 5000 (PN 57385) levels the load and improves ride via a pair of double-bellow, fully adjustable air springs. The LoadLifter 5000 Ultimate (PN 88385) offers all of the same benefits and adds an internal jounce bumper to prevent bottoming out and give extra support for heavy loads. The LoadLifter UltimatePlus (PN 89385) has upgraded stainless steel hardware and air lines along with the internal jounce bumper and military-grade AN fittings.
All of the LoadLifter suspension systems are good for the same 5-100 psi adjustability range. The air suspension systems will work with wired, wireless, and automatic on-board air compressor systems. The Ultimate Plus kit for the Ford F-150 costs $455.65 online. This sort of suspension system can be a real help to those who travel a lot towing trailers or cameras, and it is a relatively inexpensive way to ensure your truck handles as it should when fully loaded.
Subscribe to Ford Authority for more F-150 news and around-the-clock Ford news coverage.
Source: Load Lifter