The gang over at DragTimes went to an event called Wannagofast down in Immokalee, Florida where one of the events was a 1/2-mile drag race. The yellow Ford GT squares off against a yellow Dodge Demon in a race down the 'ol 2640, and it's no contest.
This race is interesting since the Dodge Demon was made from the factory to be a drag racing beast, you might expect it to carry the lead at least through the quarter-mile mark as that is the Demon's sole purpose in life. The Ford GT, on the other hand, is a car meant for lapping the road course as fast as possible.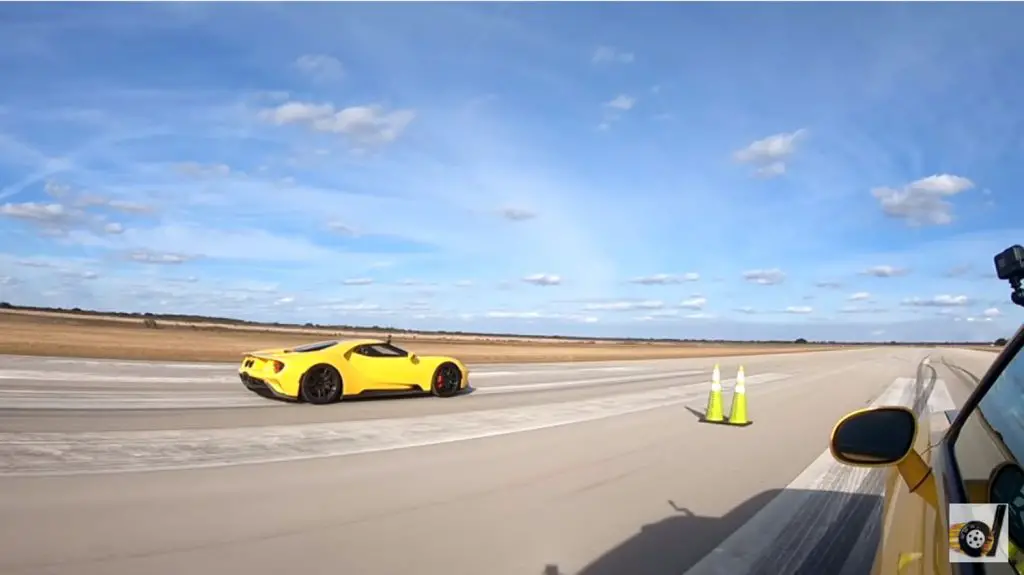 Both cars leave using what sounds like launch control, that said the driver of the Demon doesn't seem to launch the car very hard. Dodge was very proud of the fact that the Demon can lift the front wheels on launch from the factory. The Demon in this clip sort of rolls out before the Ford GT ever takes off. It looks as if the Ford GT never staged, so it never received a green light to launch.
We would like to see the race where both cars launch hard at the same time. That said, from what we see in the video, the Demon never stood a chance. As soon as the Ford GT gets into the throttle, it pulls away, and there is never a point in the video where the Demon appears to be reeling the Ford GT in.
The Ford GT packs a 645 horsepower EcoBoost V6 while the Dodge Demon has a supercharged 840 horsepower Hemi V8. The Ford GT weighs in at 3,054 pounds dry while the Dodge Demon tips the scales are close to 4,500 pounds. It's that massive weight different that helps the Ford GT pull out the win despite having significantly less horsepower. We want to see the new Ford GT Mk II in a similar race.
Subscribe to Ford Authority for more Ford GT news and around-the-clock Ford news coverage.