Henry Ford was a massively important person in the early automotive and industrial world. As you might imagine, Henry Ford ran around with some of the titans of the era, and the boys got up to some fun in their off time. Henry Ford and Thomas Edison were friends, and Edison was something of a hero to Ford.
Some of the personal items that were owned by Henry Ford are now in the Henry Ford Museum in Dearborn, Michigan. Some of the exhibits in the museum are things you would expect, like a still working Edison Triple Expansion steam engine. Amongst the items related to Thomas Edison is one that is decidedly macabre.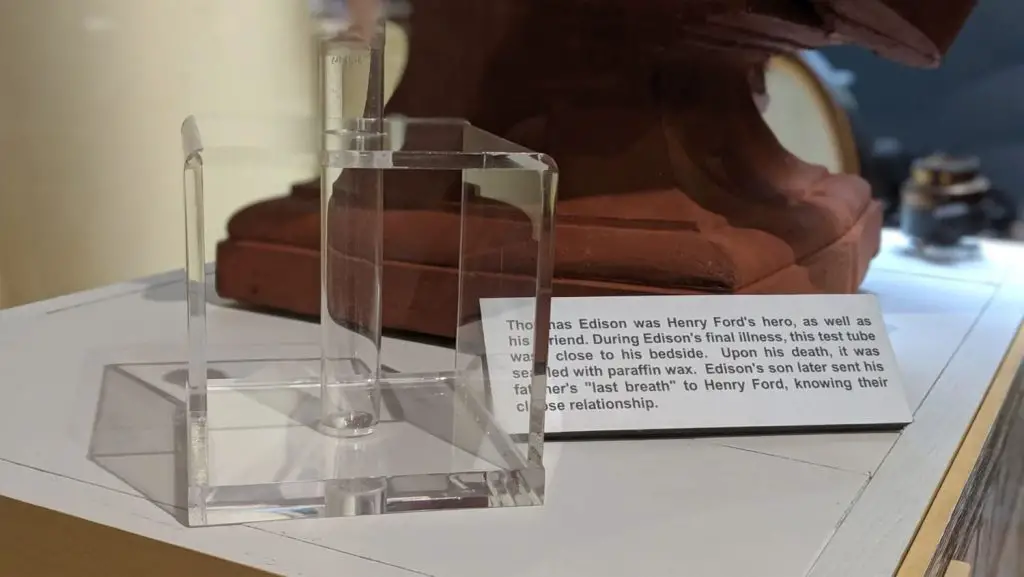 Henry Ford owned a vial that reportedly holds Thomas Edison's last breath. The story of how Ford came to own the vial is nearly as strange as the exhibit itself. Henry Ford first met Edison in 1896 when working as an engineer for one of Edison Illuminating Company's subsidiaries. The duo eventually worked on projects together with Ford providing financing for some of Edison's work.
As the years went by, Ford and Edison even camped together with their families. Thomas Edison's son, Charles Edison, was at his father's bedside as he lay dying from complications of diabetes. Charles reportedly saw empty test tubes lying on the bedside table as his father's final breath came, took the tubes, and captured the last breath of the great inventor in several test tubes.
The test tubes were sealed with paraffin and Ford was sent one of them as a memento of his relationship with Edison. The thought of a son spending the last minutes of his father's life, capturing his breath in test tubes is more than a little strange. All these years later the inventor's final breath is still presumably sealed inside the vial. Did you know that GM donated $5 million to the Henry Ford Museum in 2017?
Subscribe to Ford Authority for around-the-clock Ford news coverage.
Source: Jalopnik