Years back, many businesses advertised their products and services in towns big and small by having signs hand-painted on the sides of buildings. These hand-painted signs adorn buildings all over rural parts of Texas and other states. These signs are part of the history of the city. In Abilene, Texas, one of the historic advertisements that have adorned the side of a building as far back as the 1920s is for a local Ford dealership.
The old sign is weather faded and called a "ghost sign" because while very faded, you can still make out part of what the advertisement was shilling. The Ford sign advertises Fulwiler Motors, and the dealership's namesake started the Ford business in Abilene according to Sarah Jane Blankenship.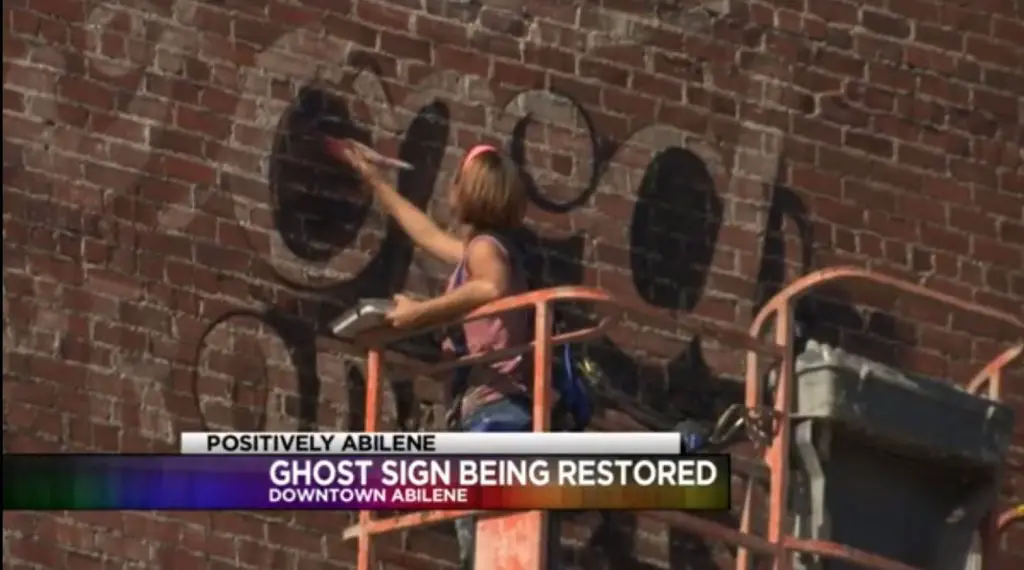 Blankenship is a sign-painter and restorer; she will work on the old ghost Ford sign for four days. She says that she isn't going for complete like new coverage for the Ford sign. Instead, she is aiming at about 75 percent coverage to leave the restored sign with a bit of the ghost look.
She says that going with 75 percent coverage also allows the brick to "breathe." The restoration project will see the woman "literally" trace the old lines of the sign on the wall. Blankenship says that over the years there have been about ten different versions of how the logo looked as it has changed over the years. She says that the sign has an altered Ford logo that is in between one of those periods.
The restoration of the ghost Ford sign comes as the Abilene Chamber of Commerce's Downtown Initiative and the Abilene Preservation League works to highlight and preserve these pieces of downtown history. The classic Ford sign will be displayed on the building along with new murals that are going up around town. The Ford sign is the only historic advertisement set for restoration right now.
Subscribe to Ford Authority for around-the-clock Ford news coverage.
Source: BigcountryHomePage.com