Recently Ford announced the Super Duty Tremor Off-Road Package that is aiming directly at the Ram Power Wagon and its buyers who want a truck that can go off-road and one that can tow. It would make sense with the Ford F-150 Raptor being a very popular high-performance off-road truck that Ram would want to return the favor by targeting the F-150 Raptor with a new truck of its own.
An off-road fan was at the Silver Lake State Park OHV Scramble area late last month and waded right into the middle of what appears to be an FCA testing day with 10-12 FCA vehicles at the park. The vehicles included black Ram trucks with blacked-out badges and fender extensions, a Jeep Gladiator, a pair of JL Wranglers, and a Ford F-150 Raptor. Presumably, the Raptor was there for benchmarking against the other rides.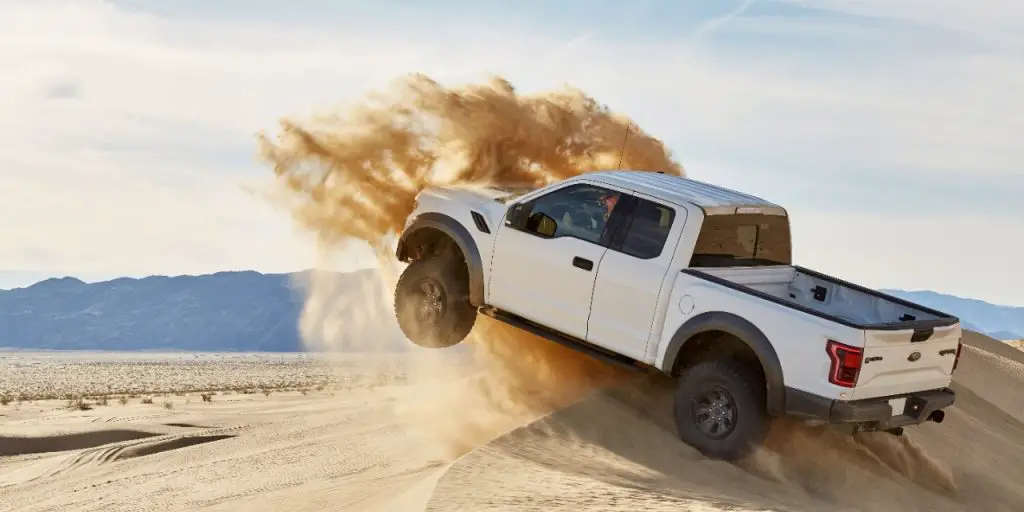 The most exciting thing that the YouTuber noticed was that one of the black Ram trucks had "serious supercharger whine," which made him think Hellcat engine. That would be no surprise, a supercharged Hellcat V8 would make a very serious F-150 Raptor competitor. The only real downside for many to the current generation F-150 Raptor is that its high-output EcoBoost V6 lacks the V8 rumble that truck buyers want. Sources have told Ford Authority that the Raptor will get a V8 of either the Super Duty 7.3-liter Godzilla variety or the 5.2-liter supercharged V8 out of the 2020 Shelby GT500.
Scuttlebutt suggests that the Ram truck seen in the video might be the Rebel TRX concept truck in testing. That concept used a 575 horsepower 6.2-liter HEMI V8 engine. The Hellcat supercharged V8 makes 707 horsepower for comparison. We still don't know what the 7.3-liter Godzilla truck V8 will make in Super Duty trim, but we do know the 2020 Shelby GT500 powerplant makes 760 horsepower and 625 pound-foot of torque. We hope that Shelby GT500 V8 is what makes its way under the hood of the Raptor. We'd love to see Ram build a Rebel TRX with a Hellcat V8; more competition is a good thing.
Subscribe to Ford Authority for more F-150 Raptor news and around-the-clock Ford news coverage.
Source: CarBuzz