Roush recently loaded up a couple of its performance trucks and headed out to the drag strip to try and set a record. The record that Roush was going for was the quickest accelerating production trucks ever produced. The tools that Roush was aiming to use to set the record were the Roush Nightmare F-150 Supercrew 4×4 and the Roush Nightmare F-150 Regular Cab 4×4.
Both trucks boast similar mods with the big feature being a supercharged 5.0-liter V8 engine. The stock Ford F-150 5.0-liter V8 gets a Roush TVS R2650 supercharger bolted on that brings power output to 650 horsepower and 610 pound-feet of torque. The Roush Nightmare F-150 is also fitted with a sport lowering kit, graphics package, 22-inch wheels, a Roush grille, and a special Roush front bumper cover.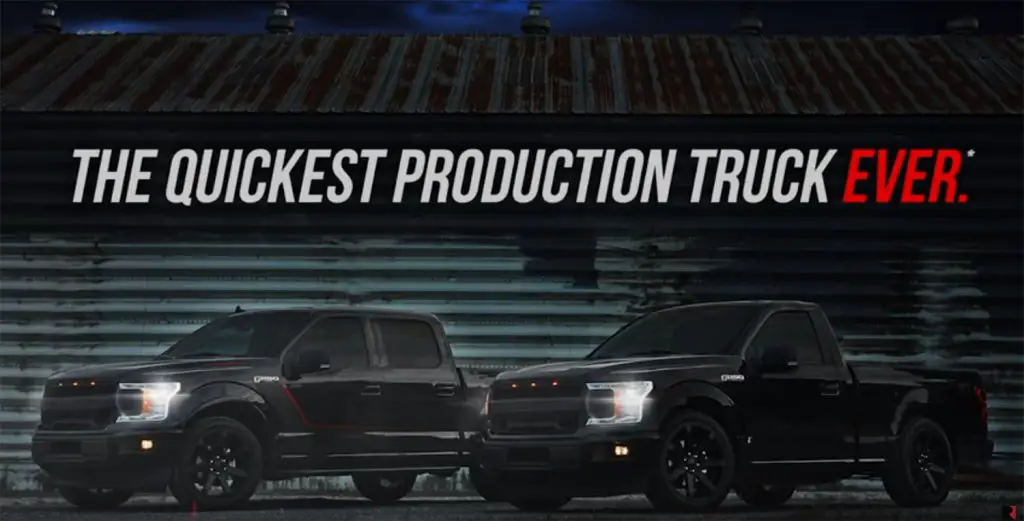 The trucks also get special graphics and can be ordered with a customized interior. The best thing about the Roush Nightmare F-150 trucks, aside from performance, is that they also maintain a 3-year, 36000-mile warranty. Roush says that it took the Nightmare trucks to the drag strip and the trucks were mildly prepared for acceleration runs.
Roush used Sport mode with the rear differentials locked. A lighter fuel load was in the trucks, and the factory-equipped Roush tires were used and inflated to 32 psi. 0-60 mph times for both trucks were recorded with a VBOX DriftBox that rounds to the nearest tenth of a second.
The larger and heavier production Roush Nightmare F-150 SuperCrew 4×4 reached 60 mph from a standstill in 4.1 seconds. Roush says that its Nightmare F-150 Regular Cab 4×4 hit 60 mph in 3.9-seconds. The regular cab truck used in the test was an engineering test truck that Roush says is equivalent to the production model.
Subscribe to Ford Authority for more F-150 news and around-the-clock Ford news coverage.
Source: Roush