Say hello to one of the nastiest "street-legal" Ford Mustang GTs we've ever seen. The mean green machine seen here comes from the 2013 model year, meaning it's a fifth-gen S197. It arrives to the party rocking a custom twin-turbo set-up that's got enough poke to catapult the muscle car deep into the 7's. To sweeten the deal, the car comes with a full interior and is regularly driven on the street.
Dubbed the "Snot Rocket," this Ford Mustang is owned by Brett Lasalla, who bought the car used in 2014 and has been building it up ever since.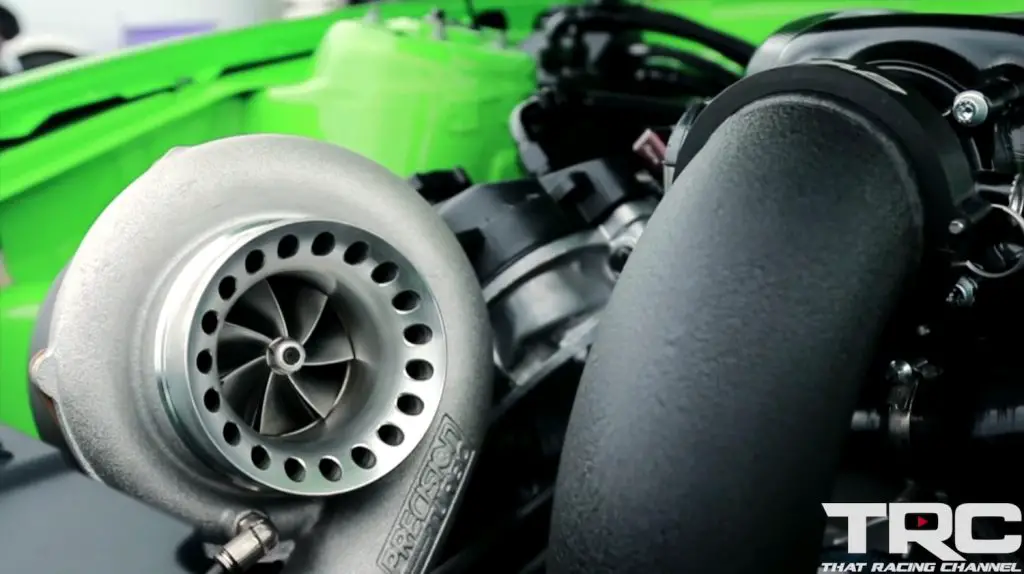 Under the hood, the Stang sports a custom twin-turbo Coyote V8 with a pair of PTE64 turbos making the pressure. The tune currently sits at a sizable 35 pounds of boost, which feeds a custom sleeved short block stuffed with new pistons and rods. Interestingly, the crank is stock.
All told, the V8 produces a whopping 1,950 horsepower at the crank, which translates as 1,675 horsepower at the rear wheels.
That's an insane amount of power, but funny enough, this Ford Mustang is still driven down to the shops every so often. It weighs in at 3,500 pounds thanks to a host of factory components, including the stock A/C, electric steering, power brakes, power windows, factory body components, full glass, and a full interior. Quite the pairing with nearly 1,700 ponies at the wheels, no?
The video here comes to us courtesy of That Racing Channel, and at a little over 10 minutes in length, there's plenty of action to be seen, including loads of racing footage at the track, where the Snot Rocket takes down BMWs, Nissan GTRs, Toyota Supras, Cadillacs and a few other Ford Mustangs, all in quick succession. What's more, the video provides a good amount of technical nitty-gritty details as well.
Looking ahead, Lasalla says he's got plans to crank up the boost to 40 or 45 psi for even more power. We can't wait to see where this thing is going next – with even more muscle, plus some extra weight savings, we think 6's seems inevitable.
Subscribe to Ford Authority for more Ford Mustang news and around-the-clock Ford news coverage.