Back in the early days of the automobile, there was no TV and no radio. Advertising things was done by making a production in small towns around the country or by word of mouth. This unique 1914 Model T is done up to resemble a Kodak camera of the era and is said to be built to resemble cars that Kodak salesmen drove in the past.
This recreation of one of those promotional trucks is built on a 1914 Ford Model T open C cab truck. The vehicle is restored to like-new condition and has fenders in gloss black with 23 karat gold leaf on them. The hood has the early Kodak logo in the same gold leaf. The lenses on the camera that extends into the bed of the truck are custom made. The cab of the truck is covered in black leatherette to resemble the case of the camera.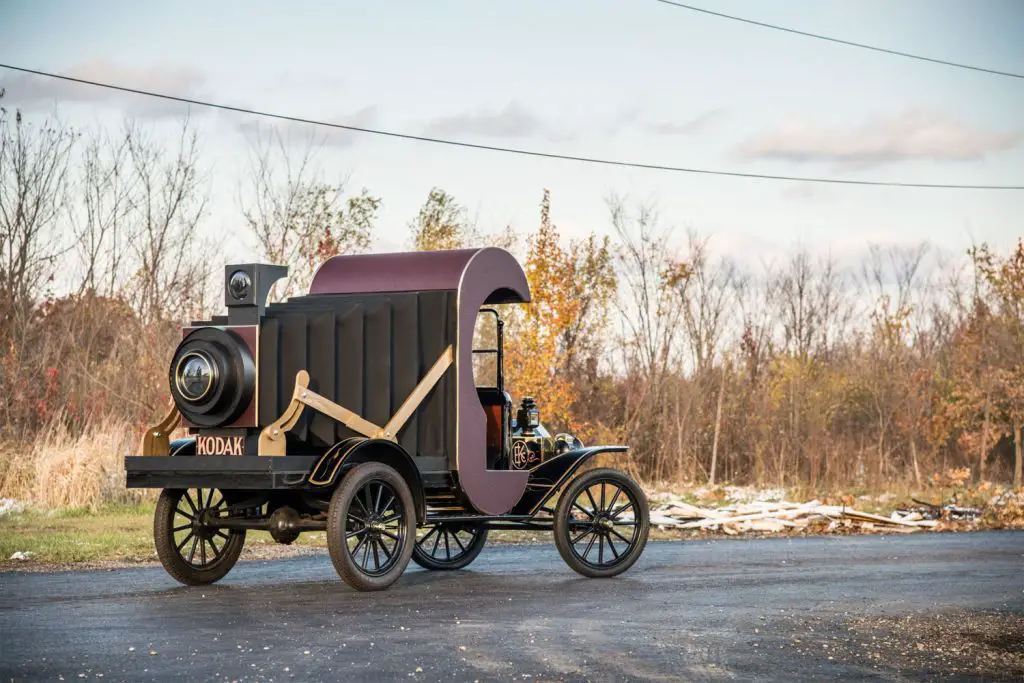 The engine of the truck is a 20 horsepower four-cylinder paired up with a 2-speed planetary transmission. The brass radiator has been hand polished along with the light bezels. All of the cab edges have been covered in quarter oval solid polished brass. The 1914 Model T is a rolling piece of art and was built with the help of four professional artisans over "many hours."
The 1914 Model T is registered as 1 of 2 built by Billy's Big Boy's Garage, a division of Volo Classic Cars. The rare rolling advertisement for Kodak is priced at $69,900. If you want to buy this Model T or any other, there is a learning curve to driving one. Check out this video to see what's involved in operating a Model T.
Subscribe to Ford Authority for more Ford classic news and around-the-clock Ford news coverage.
Source: Volo Cars